Week ahead: BoE's Carney, FOMC in focus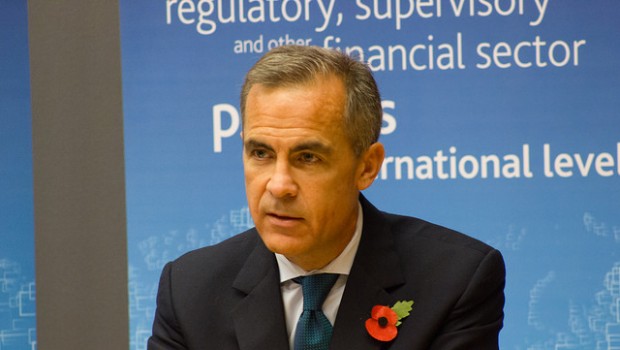 Given recent events in UK rates markets and Sterling, all eyes will be on Governor Mark Carney when he delivers a speech at the start of next week.
Investors following his 1600 BST speech at the International Monetary Fund in Washington DC will be keen to see if his remarks confirm increased speculation that Bank might be set to take back its post-Brexit vote rate cut as soon as the 2 November MPC meeting.
Among those who chose to shift their call for the timing of the first hike in Bank Rate in 10 years after rate-setters met last week were economists at Barclays Research.
In a research note sent to clients, Fabrice Montagne and Sreekala Kochugovindan said: "This change is not based on a revised macro outlook [...] Rather, we believe the MPC is now very clear and cohesive on the merits of less accommodation in the coming months. Even faced with disappointing data, the MPC might just have boxed itself into a corner.
"Faced with disappointing data, November will likely be easier to deliver than February: It will be easier for the bank to push back against one downside surprise on GDP than two. The more the divergence between the Bank and the consensus is sustained, the more complicated it will be to deliver a hike after all [...] the Bank seems to use data we do not have when assuming that wages growth strengthened (when we do not believe it did) and consumption strengthened (while we see it as virtually flat in Q2)."
He will be followed at the podium by the FSB's Don Kohn on Tuesday (1245 BST) and BoE chief economist Andy Haldane on Friday (1530 BST).
Quite important as well naturally, will be the US central bank's policy announcement on Wednesday. Although no change is expected in the Federal Reserve's policy settings, it is expected to announce the start of its balance sheet taper.
Other US data to watch for will be the Philly Fed's regional manufacturing sector index for September on Thursday, alongside the latest figures on housing starts and existing home sales for August on Tuesday and Wednesday.
Back in the euro area, the key release will be September's service sector purchasing managers' index from Markit, on Friday.
Monday September 18
INTERIMS
Concurrent Technologies, Ergomed , Learning Technologies Group , M. P. Evans Group, Medica Group , Secure Income Reit , Veltyco Group
INTERIM DIVIDEND PAYMENT DATE
Barclays, GKN
QUARTERLY PAYMENT DATE
Royal Dutch Shell 'A', Royal Dutch Shell 'B'
INTERNATIONAL ECONOMIC ANNOUNCEMENTS
Consumer Price Index (EU) (10:00)
FINALS
Bluefield Solar Income Fund Limited, City of London Investment Group, Finsbury Food Group, Green Reit, Petra Diamonds Ltd.(DI)
SPECIAL DIVIDEND PAYMENT DATE
Neptune-Calculus Income & Growth VCT
AGMS
Mercia Technologies , Ormonde Mining
TRADING ANNOUNCEMENTS
Dairy Crest Group
Tuesday September 19
INTERIMS
Anpario, Augean, Bango, DP Eurasia N.V. (DI) , Escher Group Holdings, Flowgroup, Gulf Keystone Petroleum Ltd Com Shs (DI), Gulf Marine Services, Judges Scientific, Keywords Studios, Maxcyte (DI), NAHL Group, Sinclair Pharma, Yu Group
INTERIM DIVIDEND PAYMENT DATE
London Stock Exchange Group, Mondi
INTERNATIONAL ECONOMIC ANNOUNCEMENTS
Building Permits (US) (13:30)
Current Account (EU) (09:00)
Current Account (US) (13:30)
Housing Starts (US) (13:30)
Import and Export Price Indices (US) (13:30)
FINALS
Eagle Eye Solutions Group, Purecircle Limited (DI)
AGMS
ECO Animal Health Group, Enteq Upstream, HML Holdings, Leeds Group, Marlowe, Miton Global Opportunities, Safeland
TRADING ANNOUNCEMENTS
Ocado Group
Wednesday September 20
INTERIMS
Accesso Technology Group, Attraqt Group , Cambian Group, Kingfisher, Science In Sport, Shield Therapeutics
QUARTERLY PAYMENT DATE
Brunner Inv Trust
INTERNATIONAL ECONOMIC ANNOUNCEMENTS
Crude Oil Inventories (US) (15:30)
Existing Home Sales (US) (15:30)
MBA Mortgage Applications (US) (12:00)
Producer Price Index (GER) (07:00)
Q2
Kingfisher
AGMS
Adamas Finance Asia Limited (DI), Alcentra Euorpean Floating Rate Income Fund Ltd Red Ord Shs, Diageo, Eckoh, Mercantile Ports & Logistics Limited, Scholium Group, United Carpets Group
TRADING ANNOUNCEMENTS
Babcock International Group
UK ECONOMIC ANNOUNCEMENTS
CBI Industrial Trends Surveys (11:00)
Retail Sales (09:30)
FINAL DIVIDEND PAYMENT DATE
Aberdeen Private Equity Fund Ltd. Sterling Part Shares, Bloomsbury Publishing, Ramsdens Holdings
Thursday September 21
INTERIMS
Cambridge Cognition Holdings, Elektron Technology, Mission Marketing Group, Quixant, Safestyle UK , Scisys, Venture Life Group
INTERIM DIVIDEND PAYMENT DATE
Cineworld Group, Fidessa Group, Hochschild Mining, Legal & General Group, Rio Tinto, Schroders, Schroders (Non-Voting), Ultra Electronics Holdings
INTERIM EX-DIVIDEND DATE
Applegreen, Bovis Homes Group, Crest Nicholson Holdings, Dignity, Drax Group, EMIS Group, Epwin Group, Forterra, Franchise Brands, Gamma Communications, Good Energy Group, GVC Holdings, Henry Boot, HGCapital Trust, Hunters Property , Irish Continental Group Units, John Laing Infrastructure Fund Ltd, Ladbrokes Coral Group, Luceco , Macfarlane Group, Maintel Holdings, Midwich Group, Non-Standard Finance, Old Mutual, Pendragon, Petrofac Ltd., Playtech, Property Franchise Group, Servelec Group , Stadium Group, Taylor Wimpey, Vitec Group, Weir Group, XLMedia
QUARTERLY PAYMENT DATE
Fair Oaks Income Limited 2014 Shs NPV, Fair Oaks Income Limited 2017 Shs NPV
QUARTERLY EX-DIVIDEND DATE
Funding Circle SME Income Fund
INTERNATIONAL ECONOMIC ANNOUNCEMENTS
Continuing Claims (US) (13:30)
Initial Jobless Claims (US) (12:30)
FINALS
Kier Group, Pan African Resources
AGMS
Accsys Technologies, Auto Trader Group , Begbies Traynor Group, Cambium Global Timberland Ltd., Circle Property , F&C Managed Portfolio Trust Income Shares, First Property Group, Gloo Networks, IG Group Holdings, NCC Group, Park Group, Ryanair Holdings, Twentyfour Income Fund Limited Ord Red, VietNam Holding Ltd, WYG
TRADING ANNOUNCEMENTS
Mitchells & Butlers, NCC Group
UK ECONOMIC ANNOUNCEMENTS
BBA Mortgage Lending Figures (09:30)
Public Sector Net Borrowing (09:30)
FINAL EX-DIVIDEND DATE
1pm, AdEPT Telecom, Consort Medical, Coral Products, Dart Group, Hargreaves Services, Joules Group, K3 Capital Group , Kainos Group , Mattioli Woods, Oxford Instruments, Pembroke Vct, Pembroke Vct B, Rank Group, Redrow, Renishaw, Stewart & Wight, Van Elle Holdings
Friday September 22
INTERIMS
Saga
INTERIM DIVIDEND PAYMENT DATE
Anglo American, Clarkson, FDM Group (Holdings), Henderson Opportunities Trust, Hikma Pharmaceuticals, Hostelworld Group , Ibstock , Low & Bonar, LPA Group, Marshall Motor Holdings, National Express Group, Paddy Power Betfair, Polypipe Group , Rotork, Stock Spirits Group , Vesuvius, Virgin Money Holdings (UK)
QUARTERLY PAYMENT DATE
Alpha Real Trust Ltd., BP, Real Estate Credit Investments Ltd, UIL Limited (DI)
FINALS
Smiths Group
AGMS
Accrol Group Holdings, Sirius Real Estate Ltd.
UK ECONOMIC ANNOUNCEMENTS
CBI Distributive Trades Surveys (11:00)
FINAL DIVIDEND PAYMENT DATE
Best of the Best, Dixons Carphone , FIH Group , JPMorgan Brazil Inv Trust , Miton UK Microcap Trust, Solid State, SSE, Supergroup