Week ahead: All eyes on first quarter GDP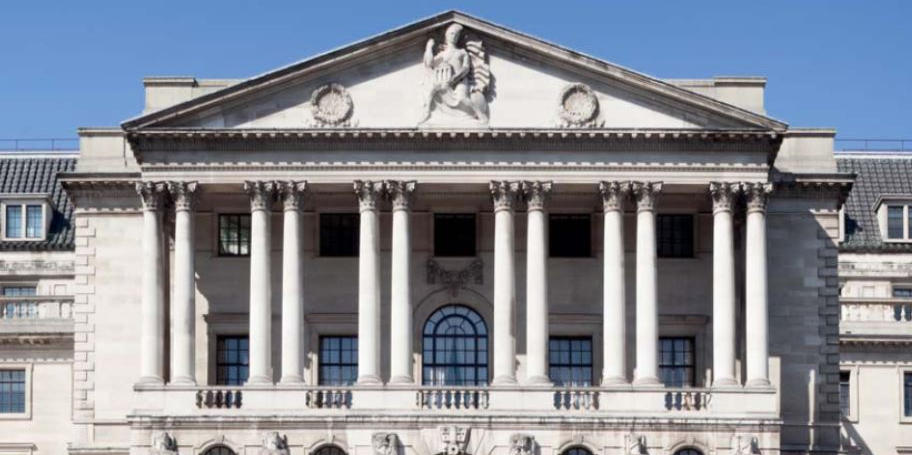 The focus over the coming week will - easily - be on the first reading on UK gross domestic product for the first quarter, at least according (sort of) to the Governor of the Bank of England.
In remarks made to the BBC the day before, Mark Carney appeared to leave the door open to shifting the timing of what had been a widely-expected first hike in Bank Rate at the next Monetary Policy Committee, on 10 May, until a later date.
Indeed, he said the most important economic release until May's MPC meeting would be Friday's first quarter GDP report.
According to economists, on Friday the Office for National Statistics will say that British GDP expanded at a quarter-on-quarter rate of 0.3% over the first quarter, versus the 0.4% pace observed during the final three months of 2017.
However, the unusually cold weather and snowstorms may have exerted an even greater drag on activity, they said, together with the uncertainty not only around Brexit but also global trade, pushing GDP growth down to just 0.2%.
Judging by his own remarks, for him at least, such a pace of growth, regardless of the possible reasons behind it, may be too low for comfort.
Other data due out over the week in the UK includes the latest public finance figures, for the month of March, on Tuesday, the BBA's mortgage data for March the next day and GfK's consumer confidence gauge on Friday.
Meanwhile, in the euro area, IHS Markit will publish the preliminary results of its services sector purchasing managers' index for April, which may move markets.
Stateside, the most keenly awaited release will also be the government's first reading on gross domestic product for the three months to March, on Friday as well.
Monday April 23
INTERIMS
Utilitywise plc
INTERIM DIVIDEND PAYMENT DATE
Sky, Smiths Group
INTERNATIONAL ECONOMIC ANNOUNCEMENTS
Existing Home Sales (US) (15:00)
PMI Manufacturing (US) (14:45)
FINALS
Arix Bioscience , Dillistone Group, Midatech Pharma
ANNUAL REPORT
Arix Bioscience , GVC Holdings, Midatech Pharma
AGMS
Bioquell, Foreign and Colonial Inv Trust, Globaltrans Investment GDR (Reg S), Gotech Group , HGCapital Trust, Microgen, Silence Therapeutics
Tuesday April 24
INTERIMS
AB Dynamics, Proactis Holdings
INTERIM DIVIDEND PAYMENT DATE
Brooks Macdonald Group
INTERNATIONAL ECONOMIC ANNOUNCEMENTS
House Price Index (US) (14:00)
IFO Business Climate (GER) (09:00)
IFO Current Assessment (GER) (09:00)
IFO Expectations (GER) (09:00)
New Homes Sales (US) (15:00)
FINALS
Atlas Mara Limited (DI), Circassia Pharmaceuticals, CityFibre Infrastructure Holdings , Inspiration Healthcare Group , Osirium Technologies, Proteome Sciences, Sportech, Sumo Group
DRILLING REPORT
Anglo American
AGMS
AFC Energy, Alfa Financial Software Holdings , Biome Technologies, CVC Credit Partners European Opportunities Ltd GBP, ECR Minerals, Empiric Student Property , Frontier Smart Technologies Group Limited, Hammerson, London Stock Exchange Group, Metro Bank, Pershing Square Holdings Ltd NPV, Premier Global Infrastructure Trust, Scotgems, SpaceandPeople, Tern , Tribal Group, UK Oil & Gas Investments
TRADING ANNOUNCEMENTS
Anglo American, London Stock Exchange Group, St James's Place
UK ECONOMIC ANNOUNCEMENTS
CBI Industrial Trends Surveys (12:00)
Public Sector Net Borrowing (09:30)
FINAL DIVIDEND PAYMENT DATE
Domino's Pizza Group, Downing Three VCT F Shs, Downing Two VCT F Shs
Q1
Virgin Money Holdings (UK)
Wednesday April 25
INTERIMS
Fenner, RDI Reit
INTERIM DIVIDEND PAYMENT DATE
Close Brothers Group
QUARTERLY PAYMENT DATE
General Electric Co
INTERNATIONAL ECONOMIC ANNOUNCEMENTS
Crude Oil Inventories (US) (15:30)
MBA Mortgage Applications (US) (12:00)
FINALS
Boohoo.com, Keystone Law Group , Warpaint London , Whitbread
IMSS
Glanbia, Lloyds Banking Group
DRILLING REPORT
Antofagasta, Fresnillo
AGMS
AIB Group, Allianz Technology Trust, BlackRock World Mining Trust, British American Tobacco, CLS Holdings, Countrywide, Croda International, Devro, Drax Group, EP Global Opportunities Trust, Franchise Brands, Glanbia, Global Invacom Group Limited (DI), Intu Properties, Mithras Inv Trust, Modern Water, Nichols, Persimmon, Personal Group Holdings, Polar Capital Global Financials Trust, Polymetal International, Sterling Energy, Tullow Oil
TRADING ANNOUNCEMENTS
AIB Group, Mithras Inv Trust, Persimmon, Tullow Oil
FINAL DIVIDEND PAYMENT DATE
Shore Capital Group Ltd., SpaceandPeople
Q1
Croda International, GlaxoSmithKline, Lloyds Banking Group, Metro Bank
Thursday April 26
INTERIMS
Capita
INTERIM EX-DIVIDEND DATE
Mcbride
QUARTERLY EX-DIVIDEND DATE
APQ Global Limited, City of London Inv Trust, Custodian Reit , JPMorgan Claverhouse Inv Trust, M Winkworth, Supermarket Income Reit
INTERNATIONAL ECONOMIC ANNOUNCEMENTS
Continuing Claims (US) (13:30)
Durable Goods Orders (US) (13:30)
ECB Interest Rate (EU) (12:45)
GFK Consumer Confidence (GER) (08:00)
Initial Jobless Claims (US) (13:30)
GMS
Fondul Proprietatea S.A. GDR (Reg S), OMV Petrom S.A. GDR (REG S), Schroder Asia Pacific Fund, Societatea Nationala De Gaze Naturale Romgaz S.A. GDR (Reg S)
FINALS
Air Partner, Brown (N.) Group, Morses Club , Novacyt S.A. (CDI), Touchstar, U And I Group
IMSS
Kaz Minerals
DRILLING REPORT
Evraz, Kaz Minerals
SPECIAL EX-DIVIDEND DATE
Panther Securities
AGMS
Admiral Group, Aggreko, Alliance Trust, AssetCo, Bouygues SA, CableVision Holdings S.A. GDS, Cobham, CRH, Elementis, FDM Group (Holdings), Fidessa Group, Fondul Proprietatea S.A. GDR (Reg S), French Connection Group, Greencoat Renewables, Impact Healthcare Reit , Just Eat , Just Eat , LSL Property Services, Meggitt, Mincon Group , Murray International Trust, RIT Capital Partners, Schroders, Schroders (Non-Voting), SDL, SThree, STV Group, Synectics, Synthomer, Taylor Wimpey, Ubisense Group, Weir Group
TRADING ANNOUNCEMENTS
Cobham, Domino's Pizza Group, Elementis, Gem Diamonds Ltd. (DI), Hastings Group Holdings , Meggitt, Synthomer, Taylor Wimpey, Weir Group
UK ECONOMIC ANNOUNCEMENTS
BBA Mortgage Lending Figures (09:30)
CBI Distributive Trades Surveys (11:00)
Nationwide House Price Index (07:00)
FINAL DIVIDEND PAYMENT DATE
Hammerson, Oakley Capital Investments Ltd. (DI)
FINAL EX-DIVIDEND DATE
Antofagasta, Arbuthnot Banking Group, BlackRock Latin American Inv Trust, Capital Drilling Ltd. (DI), Central Asia Metals, Charles Taylor, Churchill China, Clarke (T.), Curtis Banks Group, Dunedin Enterprise Investment Trust, Eurocell , Foxtons Group , Franchise Brands, Fresnillo, Harwood Wealth Management Group, Henry Boot, Hunters Property , Impax Environmental Markets, IWG , Legal & General Group, Man Group, Marshall Motor Holdings, Mobeus Income & Growth Vct, Morgan Sindall Group, Mortgage Advice Bureau (Holdings) , NAHL Group, National Express Group, Petrofac Ltd., Portmeirion Group, Porvair, Relx plc, Rolls-Royce Holdings, Secure Trust Bank, Smart Metering Systems, Spirax-Sarco Engineering, StatPro Group, SThree, TI Fluid Systems, TT Electronics, Weir Group, William Hill
Q1
Barclays, Royal Dutch Shell 'A', Royal Dutch Shell 'B', Royal Dutch Shell 'B', Royal Dutch Shell 'B', Royal Dutch Shell 'B', Shires Income
Friday April 27
INTERIM DIVIDEND PAYMENT DATE
Ferguson, Finsbury Food Group, Foresight Solar & Infrastructure VCT, Foresight Solar & Infrastructure VCT 'C', Henderson EuroTrust, Standard Life Private Equity Trust, Tracsis
QUARTERLY PAYMENT DATE
Real Estate Investors, SQN Secured Income Fund , Value and Income Trust
INTERNATIONAL ECONOMIC ANNOUNCEMENTS
Business Climate Indicator (EU) (10:00)
Consumer Confidence (EU) (11:00)
Economic Sentiment Indicator (EU) (10:00)
GDP (Preliminary) (US) (13:30)
Industrial Confidence (EU) (10:00)
Personal Consumption Expenditures (US) (13:30)
Services Confidence (EU) (10:00)
U. of Michigan Confidence (US) (13:30)
Unemployment Rate (GER) (09:00)
GMS
Flowgroup, O'Key Group GDR (Reg S) (WI), Societatea Energetica Electrica SA GDR (Reg S)
FINALS
Aseana Properties Ltd., Harvey Nash Group
ANNUAL REPORT
Billington Holdings
SPECIAL DIVIDEND PAYMENT DATE
SSP Group
EGMS
Societatea Energetica Electrica SA GDR (Reg S)
AGMS
Alpha Pyrenees Trust Ltd., Hutchison China Meditech Ltd, JPMorgan US Smaller Co. Inv Tst, Kellan Group, Laird, LMS Capital, Merlin Entertainments , Rotork, Senior, TMT Investments, Travis Perkins
TRADING ANNOUNCEMENTS
Rotork
UK ECONOMIC ANNOUNCEMENTS
GDP (Preliminary) (09:30)
GFK Consumer Confidence (00:01)
Index of Services (10:30)
FINAL DIVIDEND PAYMENT DATE
Amino Technologies, CLS Holdings, Glanbia, Globaldata, HGCapital Trust, Kingspan Group, Octopus Titan VCT
Q1
Banco Bilbao Vizcaya Argentaria SA, Royal Bank of Scotland Group
Monday April 23
INTERIMS
Utilitywise plc
INTERIM DIVIDEND PAYMENT DATE
Sky, Smiths Group
INTERNATIONAL ECONOMIC ANNOUNCEMENTS
Existing Home Sales (US) (15:00)
PMI Manufacturing (US) (14:45)
FINALS
Arix Bioscience , Dillistone Group, Midatech Pharma
ANNUAL REPORT
Arix Bioscience , GVC Holdings, Midatech Pharma
AGMS
Bioquell, Foreign and Colonial Inv Trust, Globaltrans Investment GDR (Reg S), Gotech Group , HGCapital Trust, Microgen, Silence Therapeutics
Tuesday April 24
INTERIMS
AB Dynamics, Proactis Holdings
INTERIM DIVIDEND PAYMENT DATE
Brooks Macdonald Group
INTERNATIONAL ECONOMIC ANNOUNCEMENTS
House Price Index (US) (14:00)
IFO Business Climate (GER) (09:00)
IFO Current Assessment (GER) (09:00)
IFO Expectations (GER) (09:00)
New Homes Sales (US) (15:00)
FINALS
Atlas Mara Limited (DI), Circassia Pharmaceuticals, CityFibre Infrastructure Holdings , Inspiration Healthcare Group , Osirium Technologies, Proteome Sciences, Sportech, Sumo Group
DRILLING REPORT
Anglo American
AGMS
AFC Energy, Alfa Financial Software Holdings , Biome Technologies, CVC Credit Partners European Opportunities Ltd GBP, ECR Minerals, Empiric Student Property , Frontier Smart Technologies Group Limited, Hammerson, London Stock Exchange Group, Metro Bank, Pershing Square Holdings Ltd NPV, Premier Global Infrastructure Trust, Scotgems, SpaceandPeople, Tern , Tribal Group, UK Oil & Gas Investments
TRADING ANNOUNCEMENTS
Anglo American, London Stock Exchange Group, St James's Place
UK ECONOMIC ANNOUNCEMENTS
CBI Industrial Trends Surveys (12:00)
Public Sector Net Borrowing (09:30)
FINAL DIVIDEND PAYMENT DATE
Domino's Pizza Group, Downing Three VCT F Shs, Downing Two VCT F Shs
Q1
Virgin Money Holdings (UK)
Wednesday April 25
INTERIMS
Fenner, RDI Reit
INTERIM DIVIDEND PAYMENT DATE
Close Brothers Group
QUARTERLY PAYMENT DATE
General Electric Co
INTERNATIONAL ECONOMIC ANNOUNCEMENTS
Crude Oil Inventories (US) (15:30)
MBA Mortgage Applications (US) (12:00)
FINALS
Boohoo.com, Keystone Law Group , Warpaint London , Whitbread
IMSS
Glanbia, Lloyds Banking Group
DRILLING REPORT
Antofagasta, Fresnillo
AGMS
AIB Group, Allianz Technology Trust, BlackRock World Mining Trust, British American Tobacco, CLS Holdings, Countrywide, Croda International, Devro, Drax Group, EP Global Opportunities Trust, Franchise Brands, Glanbia, Global Invacom Group Limited (DI), Intu Properties, Mithras Inv Trust, Modern Water, Nichols, Persimmon, Personal Group Holdings, Polar Capital Global Financials Trust, Polymetal International, Sterling Energy, Tullow Oil
TRADING ANNOUNCEMENTS
AIB Group, Mithras Inv Trust, Persimmon, Tullow Oil
FINAL DIVIDEND PAYMENT DATE
Shore Capital Group Ltd., SpaceandPeople
Q1
Croda International, GlaxoSmithKline, Lloyds Banking Group, Metro Bank
Thursday April 26
INTERIMS
Capita
INTERIM EX-DIVIDEND DATE
Mcbride
QUARTERLY EX-DIVIDEND DATE
APQ Global Limited, City of London Inv Trust, Custodian Reit , JPMorgan Claverhouse Inv Trust, M Winkworth, Supermarket Income Reit
INTERNATIONAL ECONOMIC ANNOUNCEMENTS
Continuing Claims (US) (13:30)
Durable Goods Orders (US) (13:30)
ECB Interest Rate (EU) (12:45)
GFK Consumer Confidence (GER) (08:00)
Initial Jobless Claims (US) (13:30)
GMS
Fondul Proprietatea S.A. GDR (Reg S), OMV Petrom S.A. GDR (REG S), Schroder Asia Pacific Fund, Societatea Nationala De Gaze Naturale Romgaz S.A. GDR (Reg S)
FINALS
Air Partner, Brown (N.) Group, Morses Club , Novacyt S.A. (CDI), Touchstar, U And I Group
IMSS
Kaz Minerals
DRILLING REPORT
Evraz, Kaz Minerals
SPECIAL EX-DIVIDEND DATE
Panther Securities
AGMS
Admiral Group, Aggreko, Alliance Trust, AssetCo, Bouygues SA, CableVision Holdings S.A. GDS, Cobham, CRH, Elementis, FDM Group (Holdings), Fidessa Group, Fondul Proprietatea S.A. GDR (Reg S), French Connection Group, Greencoat Renewables, Impact Healthcare Reit , Just Eat , Just Eat , LSL Property Services, Meggitt, Mincon Group , Murray International Trust, RIT Capital Partners, Schroders, Schroders (Non-Voting), SDL, SThree, STV Group, Synectics, Synthomer, Taylor Wimpey, Ubisense Group, Weir Group
TRADING ANNOUNCEMENTS
Cobham, Domino's Pizza Group, Elementis, Gem Diamonds Ltd. (DI), Hastings Group Holdings , Meggitt, Synthomer, Taylor Wimpey, Weir Group
UK ECONOMIC ANNOUNCEMENTS
BBA Mortgage Lending Figures (09:30)
CBI Distributive Trades Surveys (11:00)
Nationwide House Price Index (07:00)
FINAL DIVIDEND PAYMENT DATE
Hammerson, Oakley Capital Investments Ltd. (DI)
FINAL EX-DIVIDEND DATE
Antofagasta, Arbuthnot Banking Group, BlackRock Latin American Inv Trust, Capital Drilling Ltd. (DI), Central Asia Metals, Charles Taylor, Churchill China, Clarke (T.), Curtis Banks Group, Dunedin Enterprise Investment Trust, Eurocell , Foxtons Group , Franchise Brands, Fresnillo, Harwood Wealth Management Group, Henry Boot, Hunters Property , Impax Environmental Markets, IWG , Legal & General Group, Man Group, Marshall Motor Holdings, Mobeus Income & Growth Vct, Morgan Sindall Group, Mortgage Advice Bureau (Holdings) , NAHL Group, National Express Group, Petrofac Ltd., Portmeirion Group, Porvair, Relx plc, Rolls-Royce Holdings, Secure Trust Bank, Smart Metering Systems, Spirax-Sarco Engineering, StatPro Group, SThree, TI Fluid Systems, TT Electronics, Weir Group, William Hill
Q1
Barclays, Royal Dutch Shell 'A', Royal Dutch Shell 'B', Royal Dutch Shell 'B', Royal Dutch Shell 'B', Royal Dutch Shell 'B', Shires Income
Friday April 27
INTERIM DIVIDEND PAYMENT DATE
Ferguson, Finsbury Food Group, Foresight Solar & Infrastructure VCT, Foresight Solar & Infrastructure VCT 'C', Henderson EuroTrust, Standard Life Private Equity Trust, Tracsis
QUARTERLY PAYMENT DATE
Real Estate Investors, SQN Secured Income Fund , Value and Income Trust
INTERNATIONAL ECONOMIC ANNOUNCEMENTS
Business Climate Indicator (EU) (10:00)
Consumer Confidence (EU) (11:00)
Economic Sentiment Indicator (EU) (10:00)
GDP (Preliminary) (US) (13:30)
Industrial Confidence (EU) (10:00)
Personal Consumption Expenditures (US) (13:30)
Services Confidence (EU) (10:00)
U. of Michigan Confidence (US) (13:30)
Unemployment Rate (GER) (09:00)
GMS
Flowgroup, O'Key Group GDR (Reg S) (WI), Societatea Energetica Electrica SA GDR (Reg S)
FINALS
Aseana Properties Ltd., Harvey Nash Group
ANNUAL REPORT
Billington Holdings
SPECIAL DIVIDEND PAYMENT DATE
SSP Group
EGMS
Societatea Energetica Electrica SA GDR (Reg S)
AGMS
Alpha Pyrenees Trust Ltd., Hutchison China Meditech Ltd, JPMorgan US Smaller Co. Inv Tst, Kellan Group, Laird, LMS Capital, Merlin Entertainments , Rotork, Senior, TMT Investments, Travis Perkins
TRADING ANNOUNCEMENTS
Rotork
UK ECONOMIC ANNOUNCEMENTS
GDP (Preliminary) (09:30)
GFK Consumer Confidence (00:01)
Index of Services (10:30)
FINAL DIVIDEND PAYMENT DATE
Amino Technologies, CLS Holdings, Glanbia, Globaldata, HGCapital Trust, Kingspan Group, Octopus Titan VCT
Q1
Banco Bilbao Vizcaya Argentaria SA, Royal Bank of Scotland Group