Hochschild Mining falls as chairman sells £42m worth of shares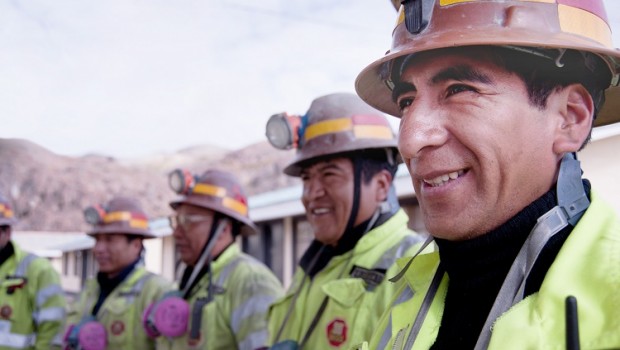 Shares in gold miner Hochschild Mining stumbled lower after chairman Eduardo Hochschild sold almost £42m worth of stock on Friday.
The company's founder sold 15.5m shares in the FTSE 250 company, held in his Pelham Investment vehicle, at a price of 270p per share via a secondary placing and agreed to an 180-day lockup.
Settlement of the placing will take place on 21 March, leaving Hochschild the person with approximately 51% of the £1.4bn company's shares.
"Eduardo Hochschild intends to retain a controlling shareholding in the company for the foreseeable future and the seller has agreed that it will not, for a period of 180 days after completion of the placing," broker JP Morgan Cazenove said on Friday.
Shares in Hochschild Mining Plc fell 7.3% to 270.1p by 1125 GMT on Friday.
Top Director Buys
Eagle Eye Solutions Group (EYE)
Director name: Currie,Bill
Amount purchased: 275,000 @ 144.50p
Value: £397,375.01

Xlmedia (XLM)
Director name: Weihs,Ory
Amount purchased: 110,000 @ 111.00p
Value: £122,100.00

Inchcape (INCH)
Director name: Buhlmann,Jerry
Amount purchased: 15,000 @ 803.00p
Value: £120,450.00

1spatial (SPA)
Director name: Roberts,Andrew (Andy)
Amount purchased: 2,000,000 @ 3.06p
Value: £61,125.00

Bacanora Minerals Ltd Npv (di) (BCN)
Director name: Hohnen,Mark A.
Amount purchased: 74,000 @ 82.00p
Value: £60,680.00

Totally (TLY)
Director name: Holt,Robert (Bob)
Amount purchased: 76,977 @ 55.00p
Value: £42,337.35

Eagle Eye Solutions Group (EYE)
Director name: Currie,Bill
Amount purchased: 25,000 @ 144.50p
Value: £36,125.00

1spatial (SPA)
Director name: Milverton,Claire
Amount purchased: 1,028,813 @ 3.15p
Value: £32,374.69

Eurocell (ECEL)
Director name: Lawson,Robert (Bob)
Amount purchased: 14,215 @ 210.00p
Value: £29,851.50

Eurocell (ECEL)
Director name: Scott,Michael
Amount purchased: 14,215 @ 210.00p
Value: £29,851.50

Secure Property Development & Investment (di) (SPDI)
Director name: Domaille,Ian Charles
Amount purchased: 105,953 @ 21.90p
Value: £23,203.71

1spatial (SPA)
Director name: Milverton,Claire
Amount purchased: 727,236 @ 2.75p
Value: £19,998.99

1spatial (SPA)
Director name: Milverton,Claire
Amount purchased: 458,690 @ 2.75p
Value: £12,613.97

Harworth Group (HWG)
Director name: Kirkman ,Andrew
Amount purchased: 9,587 @ 99.00p
Value: £9,491.13

Secure Property Development & Investment (di) (SPDI)
Director name: Kaffas, Antonios
Amount purchased: 24,136 @ 21.90p
Value: £5,285.78

1spatial (SPA)
Director name: Milverton,Claire
Amount purchased: 184,814 @ 2.75p
Value: £5,089.78

Secure Property Development & Investment (di) (SPDI)
Director name: Thaker ,Harin
Amount purchased: 20,955 @ 21.90p
Value: £4,589.14

Secure Property Development & Investment (di) (SPDI)
Director name: Hoerhager,Franz
Amount purchased: 20,955 @ 21.90p
Value: £4,589.14

Secure Property Development & Investment (di) (SPDI)
Director name: Portela ,Álvaro
Amount purchased: 20,955 @ 21.90p
Value: £4,589.14

Sampo Oyj (0HAG)
Director name: Wahlroos,Björn
Amount purchased: 400,000 @ € 0.01
Value: € 4,000.00

Forterra (FORT)
Director name: Harrison,Stephen
Amount purchased: 1,500 @ 206.50p
Value: £3,097.50

Atkins (ws) (ATK)
Director name: Krueger,Uwe
Amount purchased: 11 @ 1,477.91p
Value: £162.57

Anglo American (AAL)
Director name: Cutifani,Mark
Amount purchased: 13 @ 1,188.00p
Value: £154.44

Atkins (ws) (ATK)
Director name: Cullens,James
Amount purchased: 10 @ 1,477.91p
Value: £147.79

Atkins (ws) (ATK)
Director name: Drewett,Heath
Amount purchased: 10 @ 1,477.91p
Value: £147.79

Ubm (UBM)
Director name: Wyatt,Marina
Amount purchased: 19 @ 759.50p
Value: £144.30

Victrex Plc (VCT)
Director name: Cooper,Timothy (Tim) J
Amount purchased: 6 @ 1,977.00p
Value: £118.62


Top Director Sells
General Electric Co (GEC)
Director name: Immelt,Jeffrey R
Amount sold: 198,204 @ $29.63
Value: $5,457,522.17

General Electric Co (GEC)
Director name: Immelt,Jeffrey R
Amount sold: 81,582 @ $29.63
Value: $2,246,350.09

Hill & Smith Holdings (HILS)
Director name: Pegler,Mark
Amount sold: 40,000 @ 1,276.00p
Value: £510,400.01

Virgin Money Holdings (uk) (VM.)
Director name: Gadhia,Jayne-Anne
Amount sold: 114,414 @ 331.00p
Value: £378,710.33

Virgin Money Holdings (uk) (VM.)
Director name: Gadhia,Jayne-Anne
Amount sold: 47,972 @ 331.00p
Value: £158,787.32

Virgin Money Holdings (uk) (VM.)
Director name: Gadhia,Jayne-Anne
Amount sold: 46,142 @ 331.00p
Value: £152,730.02

Eagle Eye Solutions Group (EYE)
Director name: Rothwell,Stephen
Amount sold: 100,000 @ 144.50p
Value: £144,500.01

Ocado Group (OCDO)
Director name: Steiner,Tim
Amount sold: 35,158 @ 249.01p
Value: £87,545.88

Virgin Money Holdings (uk) (VM.)
Director name: Gadhia,Jayne-Anne
Amount sold: 8,328 @ 331.00p
Value: £27,565.68

Virgin Money Holdings (uk) (VM.)
Director name: Bole,Peter
Amount sold: 3,231 @ 331.00p
Value: £10,694.61