Directors dealings: Spouse of Travis Perkins's finance chief buys in too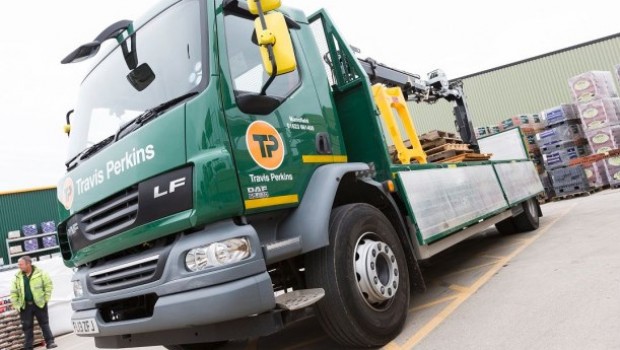 The spouse of Travis Perkins's newly-arrived finance chief, Alan Williams, picked up some shares in the builders' merchant.
Fiona Williams purchased 30,000 shares on 3 March at an individual price of 1430p, the company said in a statement, pocketing out £144,460.40 in the process.
On the day before, the firm had told investors that a poor return from Heating and Plumbing had led to a 67.4% dive in its full-year pre-tax profits.
Mr. Williams, who already owned 70,000 shares in the firm, assumed his new duties in January 2017.
Travis Perkins reported profits of £73m. Adjusted operating earnings were down 1% to £409m although revenues were up 4.6% to £6.2bn.
In reaction to those numbers, the next day analysts at Canaccord Genuity downgraded their recommendation on the shares from a 'Buy' to a 'Hold' and lowered its target price from 1,590p to 1,540p.
Analysts Aynsley Lammin and Matthew Walker pointed to the company's 'challenging' 2017 macro outlook, with weak volumes and significant cost inflation as well as continuing challenges in the firm's Plumbing & Heating arm expected to weigh on margins and cash-flows over the next 12-18 months.
Shares of Travis Perkins ended the Friday session 1.57% lower at 1,444.0p, with the shares just below their 200-day moving average albeit not far above their 52-week lows of 1,313p.
Top Director Buys
Travis Perkins (TPK)
Director name: Buffin ,Tony
Amount purchased: 10,000 @ 1,444.60p
Value: £144,460.40

Vpc Specialty Lending Investments (VSL)
Director name: Levy,Richard
Amount purchased: 78,251 @ 77.50p
Value: £60,644.52

Vpc Specialty Lending Investments (VSL)
Director name: Levy,Richard
Amount purchased: 78,251 @ 77.50p
Value: £60,644.52

Lightwaverf (LWRF)
Director name: Gamble,Barry
Amount purchased: 100,000 @ 13.75p
Value: £13,750.00

Manchester & London Investment Trust (MNL)
Director name: Harris,David
Amount purchased: 3,655 @ 339.94p
Value: £12,424.81

Thor Mining (THR)
Director name: Billing,Michael
Amount purchased: 500,000 @ A$0.01
Value: A$4,707.68

Baillie Gifford Shin Nippon (BGS)
Director name: Donaldson,Michael Neil
Amount purchased: 240 @ 622.50p
Value: £1,494.00

Dixons Carphone (DC.)
Director name: Morgan of Huyton,Baroness
Amount purchased: 119 @ 341.00p
Value: £405.79

Dixons Carphone (DC.)
Director name: Morgan of Huyton,Baroness
Amount purchased: 73 @ 311.00p
Value: £227.03

Arrow Global Group (ARW)
Director name: Hamilton,Stewart
Amount purchased: 52 @ 292.50p
Value: £152.10

Premier Oil (PMO)
Director name: Rose ,Richard
Amount purchased: 233 @ 64.50p
Value: £150.28

K3 Business Technology Group (KBT)
Director name: Bolton,David J
Amount purchased: 59 @ 254.30p
Value: £150.04

Centrica (CNA)
Director name: Hodges,Mark
Amount purchased: 66 @ 225.49p
Value: £148.82

Centrica (CNA)
Director name: Hanafin,Mark
Amount purchased: 66 @ 225.49p
Value: £148.82

Rps Group (RPS)
Director name: Young,Gary
Amount purchased: 50 @ 254.00p
Value: £127.00

Premier Oil (PMO)
Director name: Allan,Robin
Amount purchased: 195 @ 64.50p
Value: £125.77

Premier Oil (PMO)
Director name: Durrant ,Tony
Amount purchased: 193 @ 64.50p
Value: £124.48

Rps Group (RPS)
Director name: Hearne,Alan
Amount purchased: 49 @ 254.00p
Value: £124.46


Top Director Sells
Shire Plc (SHP)
Director name: Ornskov,Flemming
Amount sold: 41,967 @ $60.44
Value: $2,121,339.32

Shire Plc (SHP)
Director name: Poulton,Jeff
Amount sold: 1,428 @ $60.44
Value: $72,182.25

Laird (LRD)
Director name: Quinlan,Anthony (Tony) James
Amount sold: 8,993 @ 175.00p
Value: £15,737.77

Essentra (ESNT)
Director name: Schellinger,Stefan
Amount sold: 2,487 @ 539.00p
Value: £13,404.93