Directors dealings: Senior chief picks up shares even as analysts hit 'eject'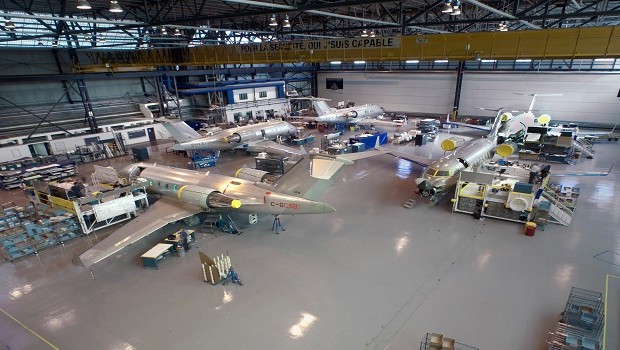 Senior chief David Squires picked up some shares in the components and system engineer on Thursday.
Squires bought 50,000 shares at 258.5p apiece, for a total outlay of £129,235.01, according to a statement from the company.
The announcement came even as analysts at Peel Hunt cut their recommendation on the shares from 'hold' to 'reduce', telling clients it was prudent to 'take profits' until the momentum in the key Flexonics end markets and the recovery in Sterling became clearer.
Nonetheless, they also boosted their target price sharply, from 195p to 260p, adding that "The wave of aerospace M&A activity will likely inflate sector multiples. However, as a big dollar earner, the sharp recovery in sterling poses a potential headwind for 2018."
Stock of Senior ended 4.27% down on the day at 260.30p but remained not far from its 52-week highs of 278.60p.
Top Director Buys
Polymetal International (POLY)
Director name: Nesis,Vitaly
Amount purchased: 20,000 @ 812.50p
Value: £162,500.00

Senior (SNR)
Director name: Squires,David
Amount purchased: 50,000 @ 258.47p
Value: £129,235.01

Polymetal International (POLY)
Director name: Nesis,Vitaly
Amount purchased: 12,716 @ 809.50p
Value: £102,936.02

Anpario (ANP)
Director name: Lawrence,Peter
Amount purchased: 26,666 @ 380.00p
Value: £101,330.80

Polymetal International (POLY)
Director name: Nesis,Vitaly
Amount purchased: 10,670 @ 811.50p
Value: £86,587.05

Polymetal International (POLY)
Director name: Groenberg,Marina
Amount purchased: 6,000 @ 812.30p
Value: £48,738.00

Polymetal International (POLY)
Director name: Nesis,Vitaly
Amount purchased: 3,929 @ 811.50p
Value: £31,883.83

Fulcrum Utility Services Ltd. (di) (FCRM)
Director name: Griffiths,Hazel
Amount purchased: 38,942 @ 50.75p
Value: £19,763.06

Polymetal International (POLY)
Director name: Nesis,Vitaly
Amount purchased: 1,982 @ 812.00p
Value: £16,093.84

M Winkworth (WINK)
Director name: Agace,Dominic
Amount purchased: 15,000 @ 100.95p
Value: £15,142.50

Oxford Metrics (OMG)
Director name: Carey,Adrian
Amount purchased: 25,000 @ 58.75p
Value: £14,687.50

Anpario (ANP)
Director name: Lawrence,Peter
Amount purchased: 3,334 @ 368.60p
Value: £12,289.12

Polymetal International (POLY)
Director name: Groenberg,Marina
Amount purchased: 1,400 @ 817.00p
Value: £11,438.00

Adept4 (AD4)
Director name: Duckworth,Simon D'Olier
Amount purchased: 125,000 @ 4.75p
Value: £5,937.50

Adept4 (AD4)
Director name: Duckworth,Simon D'Olier
Amount purchased: 125,000 @ 4.70p
Value: £5,875.00

Polymetal International (POLY)
Director name: Nesis,Vitaly
Amount purchased: 703 @ 811.00p
Value: £5,701.33

Fulcrum Utility Services Ltd. (di) (FCRM)
Director name: Griffiths,Hazel
Amount purchased: 9,852 @ 50.75p
Value: £4,999.89

Personal Assets Trust (PNL)
Director name: Angus,Robin John
Amount purchased: 4 @ 40,436.00p
Value: £1,617.44

Personal Assets Trust (PNL)
Director name: Angus,Robin John
Amount purchased: 4 @ 40,436.00p
Value: £1,617.44

Fulcrum Utility Services Ltd. (di) (FCRM)
Director name: Griffiths,Hazel
Amount purchased: 369 @ 50.84p
Value: £187.60

Pennon Group (PNN)
Director name: Loughlin,Christopher
Amount purchased: 19 @ 796.00p
Value: £151.24

Homeserve (HSV)
Director name: Bennett,Martin
Amount purchased: 18 @ 805.14p
Value: £144.93

Homeserve (HSV)
Director name: Bower,David
Amount purchased: 18 @ 805.14p
Value: £144.93

Homeserve (HSV)
Director name: Harpin,Richard
Amount purchased: 18 @ 805.14p
Value: £144.93

Homeserve (HSV)
Director name: Ford,Johnathan
Amount purchased: 18 @ 805.14p
Value: £144.93

Pennon Group (PNN)
Director name: Davy ,Susan
Amount purchased: 16 @ 796.00p
Value: £127.36


Top Director Sells
Onesavings Bank (OSB)
Director name: Golding ,Andy
Amount sold: 550,000 @ 391.97p
Value: £2,155,860.26

Newriver Reit (NRR)
Director name: Lockhart,David
Amount sold: 524,931 @ 337.83p
Value: £1,773,374.37