Directors dealings: Micro Focus chairman buys the dip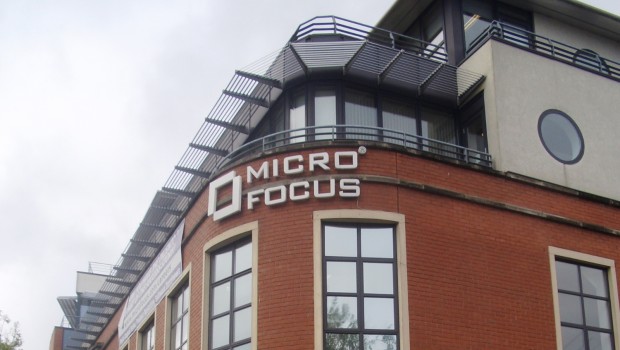 Micro Focus boss Kevin Loosemore picked up a batch of shares in the company he has helped lead since 2011, even as some analysts sounded a cautious note on the outlook.
On 22 September, the executive chairman bought 30,000 shares at an individual price of 2,462.2p apiece, for a total transaction amount of £727,860, the company said in a statement.
To take note of, Micro Focus shares were not far from the record highs of 2,674 hit earlier in 2017.
Nonetheless, in a note dated 8 September analysts at Credit Suisse said investors were being over-optimistic on several counts, including: margin beats and EBITDA upside, future M&A, asset disposals and that they were focusing too much on P & L measures of valuation.
"In particular, Chris Hsu put his weight behind delivering sustainable 10% EBITDA growth, playing down the scope for upside. [...] With such optimism already reflected in expectations, we believe the balance of risk/reward is on the downside," they said.
At the time it issued the above research note, the Swiss broker had a target price of 1,921p on the shares.
Top Director Buys
Micro Focus International (MCRO)
Director name: Loosemore,Kevin
Amount purchased: 30,000 @ 2,426.20p
Value: £727,859.97

Amerisur Resources (AMER)
Director name: Wardle,John
Amount purchased: 1,200,000 @ 16.50p
Value: £198,000.01

Trinity Exploration & Production (TRIN)
Director name: Winther,Angus
Amount purchased: 408,163 @ 12.25p
Value: £49,999.97

Restore (RST)
Director name: Towers,Martin
Amount purchased: 5,000 @ 527.90p
Value: £26,395.00

Mercantile Ports & Logistics Limited (MPL)
Director name: Metha,Jay
Amount purchased: 306,375 @ 8.16p
Value: £25,000.20

Pci-pal (PCIP)
Director name: Good,William
Amount purchased: 50,000 @ 43.00p
Value: £21,500.00

Mercantile Ports & Logistics Limited (MPL)
Director name: Fitzgerald,John
Amount purchased: 260,000 @ 7.58p
Value: £19,697.60

Firstgroup (FGP)
Director name: O'Toole,Tim
Amount purchased: 7,175 @ 116.00p
Value: £8,323.00

Jupiter Emerging & Frontier Income Trust Red (JEFI)
Director name: Moakes,Nicholas
Amount purchased: 7,500 @ 109.75p
Value: £8,231.24

Mercantile Ports & Logistics Limited (MPL)
Director name: Flight,Lord
Amount purchased: 100,000 @ 8.00p
Value: £8,000.00

Mercantile Ports & Logistics Limited (MPL)
Director name: Henderson,Andrew
Amount purchased: 61,275 @ 8.16p
Value: £5,000.04

Aberdeen Asian Income Fund Ltd. (AAIF)
Director name: Arthur,Peter
Amount purchased: 463 @ 216.00p
Value: £1,000.08

Mitchells & Butlers (MAB)
Director name: Jones,Timothy (Tim) Charles
Amount purchased: 57 @ 240.30p
Value: £136.97


Top Director Sells
Loopup Group (LOOP)
Director name: Flavell,Steve
Amount sold: 1,080,000 @ 260.00p
Value: £2,807,999.90

Barratt Developments (BDEV)
Director name: Thomas,David
Amount sold: 400,000 @ 591.45p
Value: £2,365,800.09

Gvc Holdings (GVC)
Director name: Teufelberger,Norbert
Amount sold: 230,746 @ 844.81p
Value: £1,949,365.30

888 Holdings (888)
Director name: Frieberger,Itai
Amount sold: 500,000 @ 255.50p
Value: £1,277,500.03

888 Holdings (888)
Director name: Kobrine,Aviad
Amount sold: 500,000 @ 255.50p
Value: £1,277,500.03

Barratt Developments (BDEV)
Director name: Thomas,David
Amount sold: 216,406 @ 588.03p
Value: £1,272,532.21

Standard Chartered (STAN)
Director name: Winters,Bill
Amount sold: 149,761 @ 724.80p
Value: £1,085,469.39

Michelmersh Brick Holdings (MBH)
Director name: Warner,Martin
Amount sold: 750,000 @ 87.50p
Value: £656,250.00

Loopup Group (LOOP)
Director name: Hughes,Michael
Amount sold: 250,000 @ 260.00p
Value: £649,999.98

Gvc Holdings (GVC)
Director name: Teufelberger,Norbert
Amount sold: 69,254 @ 844.36p
Value: £584,753.05

Loopup Group (LOOP)
Director name: Greensit,Marcus
Amount sold: 165,422 @ 260.00p
Value: £430,097.18

Amino Technologies (AMO)
Director name: Bennett,Michael
Amount sold: 207,500 @ 207.06p
Value: £429,655.10

Loopup Group (LOOP)
Director name: Healey,Simon
Amount sold: 60,550 @ 260.00p
Value: £157,429.99

Cropper (james) (CRPR)
Director name: Wild,Phil
Amount sold: 1,842 @ 1,895.00p
Value: £34,905.90