Directors dealings: Meggitt's Engineering Director hands spouse some shares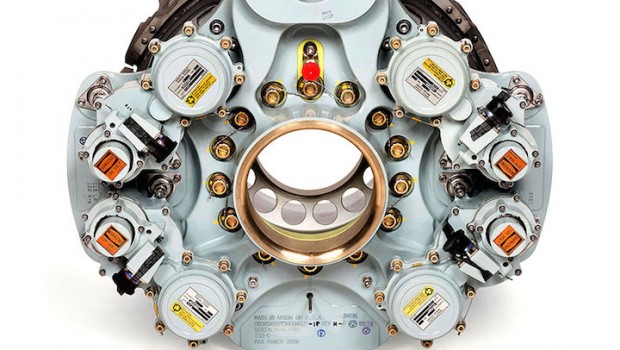 Meggitt's Engineering Director added to his holdings via his wife after exercising his share awards under the company's equity participation plan.
Chris Allen was awarded a total of 64,226 through three grants dating from August 2009 to August 2011.
On 3 April he sold 30,248 of those shares to cover tax and costs, handing over the remaining 33,978 to his wife, the company said in a statement.
As a result of the transaction, his stake in the manufacturer of specialised components for the extreme environments and subsystems for the aerospace, defence and energy markets increased by 0.03% to 197,640 shares.
For the year to the end of December, the company posted statutory pre-tax profit down 7% to £195.5m while underlying pre-tax profit rose 13% to £352.1m with revenues ahead to £1.99bn from £1.65bn the year before.
A a few days later, on 2 March, analysts at Citi handed the shares a 'Neutral' recommendation with a 500.0p target price attached, up from 410.0p previously.
Analysts Devang Doshi and Charles J.Armitage said the outfit's full-year 2016 figures revealed initial signs that management would be able to deliver on its targets to boost its margins by between 200 and 250 basis points and cut its inventory by more than £200.0m.
Top Director Buys
Ergomed (ERGO)
Director name: George,Peter
Amount purchased: 100,000 @ 190.00p
Value: £190,000.00

Vpc Specialty Lending Investments (VSL)
Director name: Levy,Richard
Amount purchased: 81,010 @ 75.00p
Value: £60,757.50

Card Factory (CARD)
Director name: Hubbard,Karen
Amount purchased: 12,393 @ 282.40p
Value: £34,997.83

Advanced Oncotherapy (AVO)
Director name: Sinclair,Michael J
Amount purchased: 100,000 @ 28.35p
Value: £28,350.00

Pearson (PSON)
Director name: Score,Tim
Amount purchased: 2,264 @ 672.00p
Value: £15,214.08

Pearson (PSON)
Director name: Manwani,Harish
Amount purchased: 2,163 @ 672.00p
Value: £14,535.36

Wolf Minerals Limited (WLFE)
Director name: Hopkins,John
Amount purchased: 161,074 @ A$0.07
Value: A$7,499.07

Pearson (PSON)
Director name: Lorimer ,Linda
Amount purchased: 1,083 @ $8.39
Value: $7,446.02

Pearson (PSON)
Director name: Corley,Elizabeth
Amount purchased: 1,047 @ 672.00p
Value: £7,035.84

Universe Group (UNG)
Director name: Coster,Malcolm
Amount purchased: 92,225 @ 6.74p
Value: £6,215.97

Universe Group (UNG)
Director name: Goddard,Robert John
Amount purchased: 54,882 @ 9.13p
Value: £5,007.98

Pearson (PSON)
Director name: Wallen,Lincoln
Amount purchased: 574 @ 672.00p
Value: £3,857.28

Wolf Minerals Limited (WLFE)
Director name: Hugh Beevor,Ronald
Amount purchased: 80,537 @ A$0.07
Value: A$3,749.54

Wolf Minerals Limited (WLFE)
Director name: Royston Clarke,Nicholas
Amount purchased: 80,537 @ A$0.07
Value: A$3,749.54

Wolf Minerals Limited (WLFE)
Director name: Newport,Don
Amount purchased: 80,537 @ A$0.07
Value: A$3,749.54

Pearson (PSON)
Director name: Lewis,Joshua
Amount purchased: 450 @ $8.39
Value: $3,093.91

Pearson (PSON)
Director name: Cox,Vivienne
Amount purchased: 341 @ 672.00p
Value: £2,291.52

Jpmorgan American Inv Trust (JAM)
Director name: Bragg,Simon
Amount purchased: 334 @ 379.00p
Value: £1,265.86

Novae Group (NVA)
Director name: Fosh,Matthew K
Amount purchased: 72 @ 630.50p
Value: £453.96

Zpg Plc (ZPG)
Director name: Chesterman,Alex
Amount purchased: 41 @ 370.20p
Value: £151.78

Zpg Plc (ZPG)
Director name: Botha,Andy
Amount purchased: 40 @ 370.20p
Value: £148.08

Ultra Electronics Holdings (ULE)
Director name: Sharma,Rakesh
Amount purchased: 7 @ 2,066.00p
Value: £144.62

Ultra Electronics Holdings (ULE)
Director name: Thomson,K
Amount purchased: 7 @ 2,066.00p
Value: £144.62

Ultra Electronics Holdings (ULE)
Director name: Sharma,Ami
Amount purchased: 7 @ 2,066.00p
Value: £144.62

Franchise Brands (FRAN)
Director name: Poutney,David
Amount purchased: 10,000 @ n/a
Value: n/a


Top Director Sells
Travis Perkins (TPK)
Director name: Buffin ,Tony
Amount sold: 23,283 @ 1,504.00p
Value: £350,176.32

Aggreko (AGK)
Director name: Weston,Chris
Amount sold: 31,995 @ 884.50p
Value: £282,995.94

Meggitt (MGGT)
Director name: Green,Philip Ernest
Amount sold: 7,434 @ 440.61p
Value: £32,754.95

Barr (a.g.) (BAG)
Director name: Kemp,Jonathan David
Amount sold: 4,000 @ 581.50p
Value: £23,260.00

Meggitt (MGGT)
Director name: Young,Stephen G
Amount sold: 4,661 @ 440.61p
Value: £20,536.83

Travis Perkins (TPK)
Director name: Buffin ,Tony
Amount sold: 197 @ 1,506.28p
Value: £2,967.37

Travis Perkins (TPK)
Director name: Carter,John P
Amount sold: 197 @ 1,506.28p
Value: £2,967.37