Director dealings: Two Berkeley Group insiders sell at 52-week high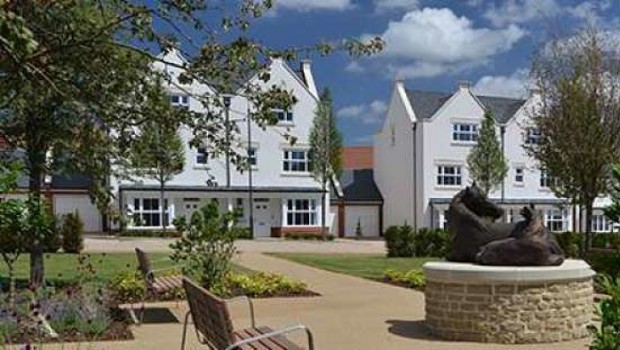 A person closely associated with The Berkeley Group's Sean Ellis cashed in on a large batch of shares of the luxury homebuilder at the start of the week.
According to the company, Karen Ellis let go off 65,000 shares at an individual price of 4,103p on 11 December, just as the stock was on its way to a fresh 52-week high, for a total transaction value of £2,666,884.96.
As per a biography posted to the company's website, Sean Ellis joined the group in 2004 with an expertise in land, going on to win a seat on the main group's board in 2010, as a divisional executive director.
Coincidentally, on the same day analysts at Cannacord Genuity bumped up their target price on the shares from 3,940p to 4,460p lauding, amongst other things, the outfit's "astute" investments in land during the last downturn.
Nevertheless, said the broker: "The bigger issue for the outlook is what demand and pricing will look like post FY2019 and what returns the group can deliver; an open question given the current political and macro uncertainty."
Hence, Cannacord opted to stick by its 'hold' recommendation.
To take note of, Ellis was not alone in selling, with John Armitt, the deputy chairman also offloading 1,000 shares at the same price.
Top Director Buys
Nmc Health (NMC)
Director name: Tompkins,Mark
Amount purchased: 27,000 @ 2,914.01p
Value: 786,782.51£

Camper & Nicholsons Marina Investments Ltd. (CNMI)
Director name: Chu,Victor Lap-Lik
Amount purchased: 6,652,798 @ 8.50p
Value: 565,487.84£

Nmc Health (NMC)
Director name: Tompkins,Mark
Amount purchased: 4,000 @ 2,837.37p
Value: 113,494.80£

Accrol Group Holdings (ACRL)
Director name: Wright,Dan
Amount purchased: 200,000 @ 50.00p
Value: 100,000.00£

Mitchells & Butlers (MAB)
Director name: Urban,Phil
Amount purchased: 23,036 @ 258.00p
Value: 59,432.88£

Electrocomponents (ECM)
Director name: Guerra,Karen
Amount purchased: 8,100 @ 619.25p
Value: 50,159.18£

Accrol Group Holdings (ACRL)
Director name: Jenkins,Gareth
Amount purchased: 100,000 @ 50.00p
Value: 50,000.00£

Mitchells & Butlers (MAB)
Director name: Jones,Timothy (Tim) Charles
Amount purchased: 12,279 @ 260.60p
Value: 31,999.07£

Accrol Group Holdings (ACRL)
Director name: Cheung,Peter
Amount purchased: 50,000 @ 50.00p
Value: 25,000.00£

Walker Crips Group (WCW)
Director name: Min,Lim Hua
Amount purchased: 50,000 @ 42.50p
Value: 21,250.00£

Accrol Group Holdings (ACRL)
Director name: Hammett ,Stephen
Amount purchased: 40,000 @ 50.00p
Value: 20,000.00£

Devro (DVO)
Director name: Helbing,Rutger
Amount purchased: 5,000 @ 226.25p
Value: 11,312.50£

Diageo (DGE)
Director name: Ferrán,Javier
Amount purchased: 313 @ 2,644.00p
Value: 8,275.72£

Devro (DVO)
Director name: Helbing,Rutger
Amount purchased: 3,000 @ 226.50p
Value: 6,795.00£

Accrol Group Holdings (ACRL)
Director name: Lake,Joanne Carolyn
Amount purchased: 10,000 @ 50.00p
Value: 5,000.00£

Devro (DVO)
Director name: Helbing,Rutger
Amount purchased: 2,000 @ 226.00p
Value: 4,520.00£

Baillie Gifford Shin Nippon (BGS)
Director name: Donaldson,Michael Neil
Amount purchased: 174 @ 857.50p
Value: 1,492.05£

Blackrock Throgmorton Trust (THRG)
Director name: Beart,Simon
Amount purchased: 163 @ 454.95p
Value: 741.57£

Blackrock Throgmorton Trust (THRG)
Director name: Beart,Simon
Amount purchased: 163 @ 454.95p
Value: 741.57£

Aberdeen Asian Smaller Companies Investment Trust (AAS)
Director name: Fukuda,Haruko
Amount purchased: 54 @ 1,038.66p
Value: 560.87£

Prudential (PRU)
Director name: Wells,Mike
Amount purchased: 12 @ 1,826.00p
Value: 219.12£

Prudential (PRU)
Director name: Foley,John W.
Amount purchased: 11 @ 1,826.00p
Value: 200.86£

Diageo (DGE)
Director name: Mikells,Kathryn
Amount purchased: 7 @ 2,644.00p
Value: 185.08£

Prudential (PRU)
Director name: FitzPatrick,Mark
Amount purchased: 10 @ 1,826.00p
Value: 182.60£

Softcat (SCT)
Director name: Charlton,Graham
Amount purchased: 30 @ 511.00p
Value: 153.30£

Consort Medical (CSRT)
Director name: Glenn,Jonathan
Amount purchased: 13 @ 1,175.58p
Value: 152.83£

Taylor Wimpey (TW.)
Director name: Redfern,Peter
Amount purchased: 76 @ 197.10p
Value: 149.80£

Taylor Wimpey (TW.)
Director name: Jordan,James J
Amount purchased: 76 @ 197.10p
Value: 149.80£

British American Tobacco (BATS)
Director name: Sethi,Naresh
Amount purchased: 3 @ 4,907.00p
Value: 147.21£

British American Tobacco (BATS)
Director name: Stevens,Ben
Amount purchased: 3 @ 4,907.00p
Value: 147.21£

British American Tobacco (BATS)
Director name: Marroco,Tadeu
Amount purchased: 3 @ 4,907.00p
Value: 147.21£

British American Tobacco (BATS)
Director name: Durante,Nicandro
Amount purchased: 3 @ 4,907.00p
Value: 147.21£

British American Tobacco (BATS)
Director name: Vandermeulen,Johan
Amount purchased: 3 @ 4,907.00p
Value: 147.21£

British American Tobacco (BATS)
Director name: Abelman,Jerome
Amount purchased: 3 @ 4,907.00p
Value: 147.21£

Consort Medical (CSRT)
Director name: Hayes,Paul
Amount purchased: 12 @ 1,175.58p
Value: 141.07£

Britvic (BVIC)
Director name: Litherland,Simon
Amount purchased: 17 @ 796.50p
Value: 135.41£

Britvic (BVIC)
Director name: Barwell,Matt
Amount purchased: 14 @ 796.50p
Value: 111.51£

British American Tobacco (BATS)
Director name: Giordano,Giovanni
Amount purchased: 2 @ 4,907.00p
Value: 98.14£


Top Director Sells
Berkeley Group Holdings (the) (BKG)
Director name: Ellis ,Sean
Amount sold: 65,000 @ 4,102.90p
Value: 2,666,884.96£

Big Yellow Group (BYG)
Director name: Vetch,Nicholas
Amount sold: 120,000 @ 841.00p
Value: 1,009,199.98£

Shaftesbury (SHB)
Director name: Bickell,Brian
Amount sold: 35,007 @ 997.36p
Value: 349,145.56£

Shaftesbury (SHB)
Director name: Quayle,Simon J
Amount sold: 24,689 @ 997.36p
Value: 246,238.03£

Shaftesbury (SHB)
Director name: Welton,Thomas J C
Amount sold: 24,689 @ 997.36p
Value: 246,238.03£

Shaftesbury (SHB)
Director name: Ward,Christopher P A
Amount sold: 24,137 @ 997.36p
Value: 240,732.61£

Berkeley Group Holdings (the) (BKG)
Director name: Armitt,John
Amount sold: 1,000 @ 4,103.00p
Value: 41,030.00£

United Utilities Group (UU.)
Director name: Houlden,Russ
Amount sold: 4,400 @ 819.25p
Value: 36,047.00£

Camper & Nicholsons Marina Investments Ltd. (CNMI)
Director name: Lewis,Roger
Amount sold: 319,629 @ 8.50p
Value: 27,168.47£