Director dealings: Landsec boss buys nearly 100,000 new shares after release of first half results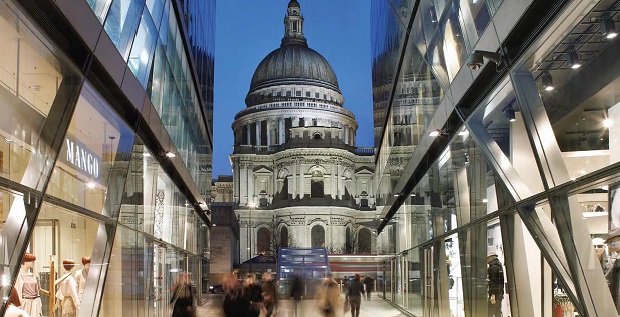 Robert Noel, chief executive of real estate investment trust Land Securities, picked up 18,365 new ordinary shares in the London-based firm on Wednesday at a cost of 933p each.
The transaction, worth a total of £171,345.45, came on the same day that Landsec chose Colette O'Shea to be the new managing director of its London portfolio, and appointed Scott Parsons, formerly of GE Banking, Brookfield Asset Management and Lloyds Banking Group, as the managing director of its retail portfolio.
In another transaction, dated 14 November, Noel purchased a further 78,330 shares in Landsec for 920.65p each, or £721,145.15 in total.
Also on Tuesday, Land Securities posted a 5.2% year-on-year improvement in revenue profit to £203m in its first half, while its valuation deficit was broadly stable, falling 0.1% to £19m.
The FTSE 100 company posted a pre-tax loss of £33m over the six-month period to 30 September, narrowing from the £95m loss it reported at the same time a year earlier.
Landsec's basic loss per share reduced to 4.3p from 12.1p, with adjusted diluted earnings per share improving 5.8% to 25.7p.
Speaking following the release of the figures, Noel said, "Landsec reports a strong operational performance in the first half, with our highest levels of leasing activity since the global financial crisis, opportunistic buying and profitable disposals."
However, the group's boss noted, "the headwinds od Brexit are beginning to show in the economy", but affirmed that "our balance sheet is healthy and we have the talent, firepower and experience to thrive".
As of 1555 GMT, shares had lost just 0.05% to 920.50p.
Top Director Buys
Land Securities Group (LAND)
Director name: Noel,Robert
Amount purchased: 18,365 @ 933.00p
Value: £171,345.45

Mccarthy & Stone (MCS)
Director name: White,John
Amount purchased: 100,000 @ 157.68p
Value: £157,680.00

Augean (AUG)
Director name: Grant,John A M
Amount purchased: 100,000 @ 31.00p
Value: £31,000.00

Nanoco Group (NANO)
Director name: Pickett,Nigel
Amount purchased: 166,666 @ 18.00p
Value: £29,999.88

Nanoco Group (NANO)
Director name: Richards,Christopher (Chris)
Amount purchased: 166,666 @ 18.00p
Value: £29,999.88

Nanoco Group (NANO)
Director name: Blain,David
Amount purchased: 138,888 @ 18.00p
Value: £24,999.84

Nanoco Group (NANO)
Director name: Wiggins,Keith
Amount purchased: 55,555 @ 18.00p
Value: £9,999.90

Mccarthy & Stone (MCS)
Director name: Baker,Rowan
Amount purchased: 6,552 @ 151.47p
Value: £9,924.31

Aeorema Communications (AEO)
Director name: Owen,Richard
Amount purchased: 30,000 @ 30.00p
Value: £9,000.00

Nanoco Group (NANO)
Director name: Edelman,Michael
Amount purchased: 42,735 @ 18.00p
Value: £7,692.30

Personal Assets Trust (PNL)
Director name: Sharp,Jean
Amount purchased: 4 @ 40,870.00p
Value: £1,634.80

Surgical Innovations Group (SUN)
Director name: Power,Adam
Amount purchased: 27,612 @ 3.60p
Value: £994.03

Surgical Innovations Group (SUN)
Director name: Power,Adam
Amount purchased: 29,690 @ 3.35p
Value: £994.02

Essentra (ESNT)
Director name: Wunderlich,Ralf K
Amount purchased: 5,000 @ 5.05p
Value: £252.50

United Utilities Group (UU.)
Director name: Gardiner,Simon
Amount purchased: 22 @ 839.97p
Value: £184.79

United Utilities Group (UU.)
Director name: Mogford,Steven L
Amount purchased: 22 @ 839.97p
Value: £184.79

United Utilities Group (UU.)
Director name: Fraser,Steven
Amount purchased: 22 @ 839.97p
Value: £184.79

United Utilities Group (UU.)
Director name: Houlden,Russ
Amount purchased: 20 @ 839.97p
Value: £167.99

Bae Systems (BA.)
Director name: Garwood,Alan
Amount purchased: 28 @ 542.70p
Value: £151.96

Bae Systems (BA.)
Director name: Bramwell,Philip
Amount purchased: 28 @ 542.70p
Value: £151.96

National Grid (NG.)
Director name: Pettigrew,John
Amount purchased: 17 @ 887.78p
Value: £150.92

National Grid (NG.)
Director name: Bonfield,Andrew R J
Amount purchased: 17 @ 887.78p
Value: £150.92

Aa (AA.)
Director name: Clarke,Martin C
Amount purchased: 93 @ 161.33p
Value: £150.04

Zotefoams (ZTF)
Director name: Stirling,David
Amount purchased: 39 @ 383.80p
Value: £149.68

Zotefoams (ZTF)
Director name: McGrath ,Gary
Amount purchased: 39 @ 383.80p
Value: £149.68

British Land Company (BLND)
Director name: Bell,Lucinda
Amount purchased: 25 @ 593.98p
Value: £148.50

British Land Company (BLND)
Director name: Grigg,Chris
Amount purchased: 25 @ 593.98p
Value: £148.50

British Land Company (BLND)
Director name: Roberts,Timothy Andrew
Amount purchased: 25 @ 593.98p
Value: £148.50

British Land Company (BLND)
Director name: Maudsley,Charles
Amount purchased: 25 @ 593.98p
Value: £148.50

Supergroup (SGP)
Director name: Sutherland ,Euan
Amount purchased: 8 @ 1,855.00p
Value: £148.40

Supergroup (SGP)
Director name: Cartwright,Andrea
Amount purchased: 8 @ 1,855.00p
Value: £148.40

Bae Systems (BA.)
Director name: Woodburn,Charles
Amount purchased: 27 @ 542.70p
Value: £146.53

Imi (IMI)
Director name: Shook ,Daniel
Amount purchased: 10 @ 1,252.00p
Value: £125.20

Imi (IMI)
Director name: Selway,Mark W
Amount purchased: 10 @ 1,252.00p
Value: £125.20

Imi (IMI)
Director name: Twite,Roy
Amount purchased: 10 @ 1,252.00p
Value: £125.20

National Grid (NG.)
Director name: Westcott,Mike
Amount purchased: 14 @ 887.78p
Value: £124.29


Top Director Sells
Intermediate Capital Group (ICP)
Director name: Keller,Philip
Amount sold: 130,000 @ 1,007.27p
Value: £1,309,450.94

Land Securities Group (LAND)
Director name: Noel,Robert
Amount sold: 78,330 @ 920.65p
Value: £721,145.15