Director dealings: Kingspan CFO takes profits near all-time high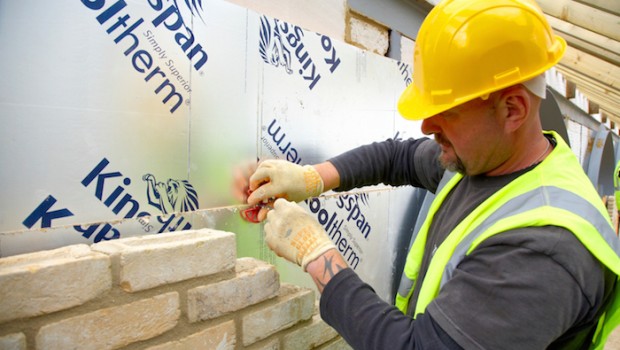 Kingspan Group finance director Geoff Doherty took some profits along with many other investors in the Dublin-based insulation and wall-panels specialist as they backed off an all-time high despite exceeding high expectations in Friday's results.
Doherty, who joined the group in 2011 from Greencore, sold 25,000 shares at a price of €29.50, having touched just above €30 on Thursday.
The preliminary results for the calendar year showed revenue up 12% to €3.1bn and trading profits up 33% to €340.9m.
Acquisitions contributed 11% to sales growth and 7% to trading profit growth in the year, with group trading margin of 11% an 180-basis-point improvement.
Basic earnings per share were up 35% to 143.8 euro cents.
The board declared a final dividend per share of 23.5 euro cents, taking the total dividend for the year up 34% to 33.5 cents.
Murtagh said the board was encouraged by the outlook for the first half of 2017, with a current order book solidly ahead of the same point last year.
"With low debt levels and strong cash generation we retain the flexibility to invest in new opportunities as they present themselves."
In a note on Monday, UBS said the results exceeded high expectations and it expects more growth to come.
Kingspan flagged circa €100m commodity price increase over 2017 as a result of steel and chemical cost inflation, which would require 4-5% price increases for the relevant products, in UBS's view.
"We believe the track record of margin management is strong, both through inflationary periods. Given a higher degree of consolidation versus history and generally growing end markets we are confident Kingspan can recover rising costs over the course of 2017."
Top Director Buys
Nex Group (NXG)
Director name: Bridges,Stuart J
Amount purchased: 30,000 @ 548.00p
Value: £164,400.00

Plant Health Care (PHC)
Director name: Richards,Christopher (Chris)
Amount purchased: 452,351 @ 19.00p
Value: £85,946.69

Plant Health Care (PHC)
Director name: Lewis,William (Bill)
Amount purchased: 185,500 @ 21.00p
Value: £38,955.00

Rm2 International S.a. (di) (RM2)
Director name: Molson,R. Ian
Amount purchased: 117,500 @ 27.50p
Value: £32,312.50

Rm2 International S.a. (di) (RM2)
Director name: Walsh,Paul S
Amount purchased: 90,000 @ 27.50p
Value: £24,750.00

Rm2 International S.a. (di) (RM2)
Director name: Duro,Charles
Amount purchased: 90,000 @ 27.50p
Value: £24,750.00

Rm2 International S.a. (di) (RM2)
Director name: Seze,Amaury de
Amount purchased: 90,000 @ 27.50p
Value: £24,750.00

Rm2 International S.a. (di) (RM2)
Director name: Dekker,Jan
Amount purchased: 90,000 @ 27.50p
Value: £24,750.00

Rm2 International S.a. (di) (RM2)
Director name: Rose,Stuart
Amount purchased: 90,000 @ 27.50p
Value: £24,750.00

Rm2 International S.a. (di) (RM2)
Director name: Dekker,Jan
Amount purchased: 90,000 @ 27.50p
Value: £24,750.00

Bca Marketplace (BCA)
Director name: Lampert ,Tim
Amount purchased: 11,250 @ 185.47p
Value: £20,865.37

Plant Health Care (PHC)
Director name: Richards,Christopher (Chris)
Amount purchased: 74,938 @ 20.00p
Value: £14,987.60

Coca-cola Hbc Ag (cdi) (CCH)
Director name: Lois ,Dimitris
Amount purchased: 340 @ 1,892.89p
Value: £6,439.14

Coca-cola Hbc Ag (cdi) (CCH)
Director name: GUSTAVSSON,JAN
Amount purchased: 119 @ 1,892.89p
Value: £2,251.21

Coca-cola Hbc Ag (cdi) (CCH)
Director name: Imellos,Michalis
Amount purchased: 56 @ 1,892.89p
Value: £1,068.93

Ubm (UBM)
Director name: Wyatt,Marina
Amount purchased: 21 @ 720.90p
Value: £151.39


Top Director Sells
Trifast (TRI)
Director name: Diamond,Malcolm
Amount sold: 500,000 @ 210.50p
Value: £1,052,500.01

Kingspan Group (KGP)
Director name: Doherty,Geoff P
Amount sold: 25,000 @ € 29.50
Value: € 737,500.00

Damille Investments Ii Ltd (DIL2)
Director name: Prosser,Richard John Stobart
Amount sold: 1,306 @ 131.54p
Value: £1,717.91