Director dealings: Imperial Brands chairman picks up nearly 8,000 shares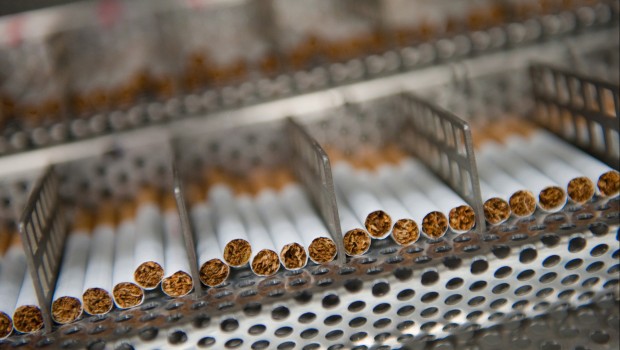 Mark Williamson, chairman of tobacco giant Imperial Brands, purchased 7,876 ordinary shares in the company on Wednesday at a cost of 3,148.57p each.
The transaction came to a total value of £247,981.21.
Imperial saw profits rise 6.2% to £3.8bn in the year ended 30 September. However, on a constant currency basis profits fell 3.2% due to increased investment in e-vapour products and a continued decline in the volume of tobacco sales.
Growth and specialist brands accounted for 62.7% of group revenue, which ended the year on £30.2bn.
The group increased its full-year dividend 10%, for the ninth consecutive year, to 170.7p with earnings per share coming in at 267p for the latest twelve-month period.
As of 1630 GMT, shares had slipped 0.29% to 3,134.00p.
Top Director Buys
Imperial Brands (IMB)
Director name: Williamson,Mark
Amount purchased: 7,876 @ 3,148.57p
Value: 247,981.21£

Thruvision Group (THRU)
Director name: Black,Thomas (Tom) Joseph
Amount purchased: 849,305 @ 15.49p
Value: 131,557.34£

Thruvision Group (THRU)
Director name: Black,Thomas (Tom) Joseph
Amount purchased: 664,404 @ 15.49p
Value: 102,916.18£

Aviva (AV.)
Director name: Williams,Keith
Amount purchased: 10,000 @ 503.50p
Value: 50,350.00£

Alliance Trust (ATST)
Director name: Samuel,Christopher
Amount purchased: 6,500 @ 749.50p
Value: 48,717.50£

Aggregated Micro Power Holdings (AMPH)
Director name: Eckert,Neil
Amount purchased: 29,000 @ 85.00p
Value: 24,650.00£

Shire Plc (SHP)
Director name: Kilsby,Susan
Amount purchased: 534 @ 51.97$
Value: 21,264.01$

North Midland Construction (NMD)
Director name: Moyle,Robert
Amount purchased: 4,400 @ 325.00p
Value: 14,300.00£

Getech Group (GTC)
Director name: Stephens,Peter
Amount purchased: 50,000 @ 24.50p
Value: 12,250.00£

Getech Group (GTC)
Director name: Stephens,Peter
Amount purchased: 40,000 @ 25.00p
Value: 10,000.00£

Shire Plc (SHP)
Director name: Clark,Ian
Amount purchased: 201 @ 51.97$
Value: 8,003.87$

Shire Plc (SHP)
Director name: Stroucken ,Albert P.L.
Amount purchased: 192 @ 51.97$
Value: 7,645.49$

Shire Plc (SHP)
Director name: Gillis,Steven
Amount purchased: 177 @ 51.97$
Value: 7,048.18$

Shire Plc (SHP)
Director name: Minto,Anne
Amount purchased: 182 @ 3,789.50p
Value: 6,896.89£

Shire Plc (SHP)
Director name: Burns,William
Amount purchased: 180 @ 3,789.50p
Value: 6,821.10£

Shire Plc (SHP)
Director name: Mathew,Sara
Amount purchased: 168 @ 51.97$
Value: 6,689.80$

Shire Plc (SHP)
Director name: Blakemore ,Dominic
Amount purchased: 165 @ 3,789.50p
Value: 6,252.68£

Shire Plc (SHP)
Director name: Bohuon,Olivier
Amount purchased: 161 @ 3,789.50p
Value: 6,101.10£

Shire Plc (SHP)
Director name: Ginsburg,David
Amount purchased: 150 @ 51.97$
Value: 5,973.04$

Shire Plc (SHP)
Director name: Fosler ,Gail D.
Amount purchased: 144 @ 51.97$
Value: 5,734.11$

Inmarsat (ISAT)
Director name: Kehler,Robert
Amount purchased: 1,000 @ 464.10p
Value: 4,640.99£

Share Plc (SHRE)
Director name: Stone,Richard William
Amount purchased: 19,410 @ 23.00p
Value: 4,464.30£

Univision Engineering Ltd. (UVEL)
Director name: Lyth,Nicholas James (Nick)
Amount purchased: 250,000 @ 1.74p
Value: 4,350.00£

Oxford Biomedica (OXB)
Director name: Tallarigo ,Lorenzo
Amount purchased: 29,365 @ 9.00p
Value: 2,642.85£

Getech Group (GTC)
Director name: Stephens,Peter
Amount purchased: 10,000 @ 23.70p
Value: 2,369.99£

Coca-cola Hbc Ag (cdi) (CCH)
Director name: GUSTAVSSON,JAN
Amount purchased: 100 @ 2,347.26p
Value: 2,347.26£

Coca-cola Hbc Ag (cdi) (CCH)
Director name: Bogdanovic,Zoran
Amount purchased: 95 @ 2,347.26p
Value: 2,229.90£

Univision Engineering Ltd. (UVEL)
Director name: Lyth,Nicholas James (Nick)
Amount purchased: 100,000 @ 1.75p
Value: 1,745.00£

Univision Engineering Ltd. (UVEL)
Director name: Lyth,Nicholas James (Nick)
Amount purchased: 100,000 @ 1.75p
Value: 1,745.00£

Coca-cola Hbc Ag (cdi) (CCH)
Director name: Imellos,Michalis
Amount purchased: 48 @ 2,347.26p
Value: 1,126.68£

Coca-cola Hbc Ag (cdi) (CCH)
Director name: PAREZANOVIC,SANDA
Amount purchased: 33 @ 2,347.26p
Value: 774.60£

Centaur Media (CAU)
Director name: Mukerji,Swagatam
Amount purchased: 319 @ 47.00p
Value: 149.93£

Centaur Media (CAU)
Director name: Vidler ,Andria
Amount purchased: 319 @ 47.00p
Value: 149.93£


Top Director Sells
Caledonia Investments (CLDN)
Director name: Wyatt,William
Amount sold: 13,799 @ 2,707.50p
Value: 373,607.94£

Caledonia Investments (CLDN)
Director name: King ,Stephen
Amount sold: 9,791 @ 2,707.50p
Value: 265,091.33£

Caledonia Investments (CLDN)
Director name: Cayzer-Colvin,Jamie M B
Amount sold: 8,279 @ 2,707.50p
Value: 224,153.93£

Scholium Group (SCHO)
Director name: Allen,Jasper
Amount sold: 30,000 @ 50.00p
Value: 15,000.00£

North Midland Construction (NMD)
Director name: Moyle,Robert
Amount sold: 4,400 @ 321.00p
Value: 14,124.00£

Share Plc (SHRE)
Director name: Stone,Richard William
Amount sold: 19,410 @ 23.00p
Value: 4,464.30£