Director dealings: EasyJet's Lundgren buys in at 52-week high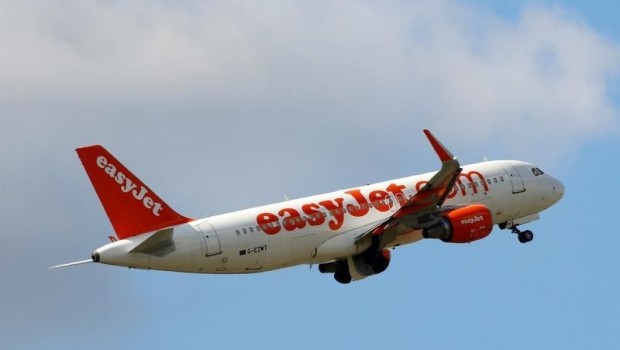 Easyjet's new boss picked up a sizeable number of shares in the company roughly a month after being put at the controls, even as they hit a fresh 52-week high.
Johan Lundgren purchased 20,000 shares at a 1,442.25p apiece for a total transaction amount of £288,449.99 on 6 December, the company said in a statement.
That same day, the budget carrier reported an 8.1% jump in passenger numbers for November as the load factor - which gauges how full the planes are - improved to 92.3% from 89.7%.
In parallel, analysts at JP Morgan lifted their recommendation on the shares from 'underweight' to 'overweight', with an improved target price of 1,550p versus 1,330p previously.
To back up their call, JP Morgan referenced "a much improved" pricing outlook for fiscal year 2018 and its estimates for profit contributions from fiscal year 2019 onwards linked to the purchase of Air Berlin slots.
More specifically, the investment bank raised its estimates for the company's growth in profits before tax in fiscal years 2018 and 2019 by 10% each one, to -2% and 17%, respectively.
Shares of Easyjet finished up by 1.26% on the day at 1,444p.
Top Director Buys
Easyjet (EZJ)
Director name: Lundgren,Johan
Amount purchased: 20,000 @ 1,442.25p
Value: 288,449.99£

Hargreaves Services (HSP)
Director name: Banham,Gordon Frank Colenso
Amount purchased: 50,000 @ 325.00p
Value: 162,500.00£

Lsl Property Services (LSL)
Director name: Crabb,Ian
Amount purchased: 56,000 @ 285.00p
Value: 159,599.99£

Monks Inv Trust (MNKS)
Director name: Richards,Belinda
Amount purchased: 4,901 @ 766.50p
Value: 37,566.16£

Babcock International Group (BAB)
Director name: Lee,Myles
Amount purchased: 5,000 @ 678.00p
Value: 33,900.00£

Vpc Specialty Lending Investments (VSL)
Director name: Levy,Richard
Amount purchased: 40,806 @ 75.04p
Value: 30,620.82£

Grainger (GRI)
Director name: Gordon,Helen
Amount purchased: 8,972 @ 282.66p
Value: 25,360.26£

Oxford Metrics (OMG)
Director name: Parry,Roger
Amount purchased: 40,323 @ 62.00p
Value: 25,000.26£

Grainger (GRI)
Director name: Simms,Vanessa
Amount purchased: 8,881 @ 279.94p
Value: 24,861.47£

Real Estate Investors (RLE)
Director name: Daly,Marcus
Amount purchased: 40,000 @ 58.50p
Value: 23,400.00£

Condor Gold (CNR)
Director name: Mellon ,James(Jim)
Amount purchased: 50,000 @ 39.50p
Value: 19,750.00£

Convatec Group (CTEC)
Director name: Rivaz ,Ros
Amount purchased: 4,821 @ 206.15p
Value: 9,938.49£

Primorus Investments (PRIM)
Director name: Clayton,Alastair
Amount purchased: 5,000,000 @ 0.19p
Value: 9,300.00£

Primorus Investments (PRIM)
Director name: Clayton,Alastair
Amount purchased: 5,000,000 @ 0.19p
Value: 9,250.00£

Menzies(john) (MNZS)
Director name: Black,Forsyth
Amount purchased: 732 @ 437.00p
Value: 3,198.84£

Menhaden Capital (MHN)
Director name: Pearce,Howard
Amount purchased: 2,000 @ 69.25p
Value: 1,385.00£

Associated British Engineering (ASBE)
Director name: Gould,Rupert P
Amount purchased: 2,500 @ 30.00p
Value: 750.00£

Grainger (GRI)
Director name: Simms,Vanessa
Amount purchased: 108 @ 277.80p
Value: 300.02£

Grainger (GRI)
Director name: Gordon,Helen
Amount purchased: 108 @ 277.80p
Value: 300.02£

Ultra Electronics Holdings (ULE)
Director name: Sharma,Ami
Amount purchased: 13 @ 1,293.00p
Value: 168.09£

Ultra Electronics Holdings (ULE)
Director name: Thomson,K
Amount purchased: 12 @ 1,293.00p
Value: 155.16£

Close Brothers Group (CBG)
Director name: Etherington,Rebekah
Amount purchased: 11 @ 1,403.00p
Value: 154.33£

Close Brothers Group (CBG)
Director name: Prebensen,Preben
Amount purchased: 11 @ 1,403.00p
Value: 154.33£

Great Portland Estates (GPOR)
Director name: Sanderson,Nick
Amount purchased: 25 @ 617.00p
Value: 154.25£

Great Portland Estates (GPOR)
Director name: Courtauld,Toby
Amount purchased: 25 @ 617.00p
Value: 154.25£

Avon Rubber (AVON)
Director name: Keveth,Nick
Amount purchased: 13 @ 1,172.10p
Value: 152.37£

Phoenix Group Holdings (di) (PHNX)
Director name: Jefford,Stephen
Amount purchased: 20 @ 757.50p
Value: 151.50£

Countrywide (CWD)
Director name: Platt,Alison
Amount purchased: 132 @ 114.06p
Value: 150.56£

Ultra Electronics Holdings (ULE)
Director name: Harris,Sharon
Amount purchased: 10 @ 1,293.00p
Value: 129.30£

Phoenix Group Holdings (di) (PHNX)
Director name: Moss,Andrew
Amount purchased: 17 @ 757.50p
Value: 128.77£

Rps Group (RPS)
Director name: Young,Gary
Amount purchased: 46 @ 273.50p
Value: 125.81£

Mission Marketing Group (TMMG)
Director name: Fitzwilliam,Peter
Amount purchased: 192 @ 40.80p
Value: 78.34£

Mission Marketing Group (TMMG)
Director name: Lee,Giles
Amount purchased: 191 @ 40.80p
Value: 77.93£

Mission Marketing Group (TMMG)
Director name: William Morgan,David
Amount purchased: 131 @ 40.80p
Value: 53.45£


Top Director Sells
Biffa (BIFF)
Director name: Wakelin,Ian
Amount sold: 751,121 @ 252.00p
Value: 1,892,824.91£

Biffa (BIFF)
Director name: Topham,Michael
Amount sold: 191,095 @ 252.00p
Value: 481,559.40£

Oxford Metrics (OMG)
Director name: Bolton,Nicholas Paul
Amount sold: 616,181 @ 61.50p
Value: 378,951.32£

Oxford Metrics (OMG)
Director name: Deacon,David
Amount sold: 308,090 @ 61.50p
Value: 189,475.35£

Biffa (BIFF)
Director name: Topham,Michael
Amount sold: 32,000 @ 252.00p
Value: 80,640.00£

Biffa (BIFF)
Director name: Wakelin,Ian
Amount sold: 15,437 @ 249.00p
Value: 38,438.13£

Henry Boot (BOOT)
Director name: Deards,R A
Amount sold: 7,000 @ 300.00p
Value: 21,000.00£

Biffa (BIFF)
Director name: Davis,Mick
Amount sold: 5,107 @ 252.00p
Value: 12,869.64£

Biffa (BIFF)
Director name: Topham,Michael
Amount sold: 3,856 @ 249.00p
Value: 9,601.44£

Biffa (BIFF)
Director name: Anderson,Jeff
Amount sold: 2,746 @ 252.00p
Value: 6,919.92£