Director dealings: DMGT director cashes in 61,339 of company shares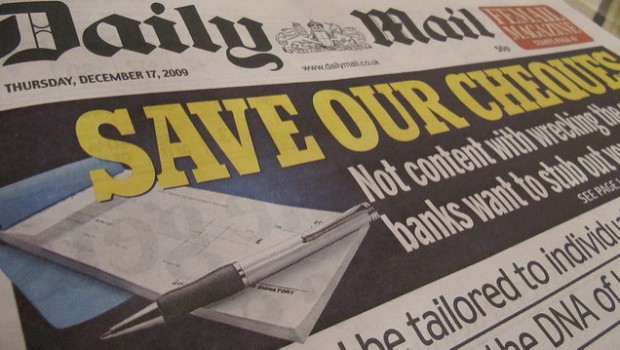 Kevin Beatty, chief executive of DMG Media, ditched 61,339 ordinary shares in Daily Mail and General Trust (DMGT) on Thursday at a price of 602.58p each.
The transaction, which came to a total value of £369,616.56, was part of a realisation of awards granted to Beatty in December 2012 under DMGT's long-term executive incentive plan.
DMGT shares dropped as much as 25% on 30 November after its full-year results saw a 13% fall in pre-tax profits to £226m, with the company warning investors of a difficult year to come.
"The coming year is expected to be one of transition as we execute against the performance improvement programme. The group's short-term earnings will be adversely affected by recent disposals and challenging conditions in some of our sectors," DMGT said at the time.
As of 1540 GMT, shares had gained 0.59% to 601.00p.
Top Director Buys
Gli Finance Limited (GLIF)
Director name: Whelan,Andrew
Amount purchased: 1,090,909 @ 11.00p
Value: 119,999.99£

Rhi Magnesita N.v. (di) (RHIM)
Director name: Ramsay,John
Amount purchased: 2,130 @ 3,986.70p
Value: 84,916.71£

Gli Finance Limited (GLIF)
Director name: Stubbs,Emma
Amount purchased: 681,818 @ 11.00p
Value: 74,999.98£

Gli Finance Limited (GLIF)
Director name: Le Cornu ,Aaron
Amount purchased: 455,790 @ 11.00p
Value: 50,136.90£

Ssp Group (SSPG)
Director name: Utnegaard,Per
Amount purchased: 7,100 @ 676.00p
Value: 47,996.00£

Walker Crips Group (WCW)
Director name: Min,Lim Hua
Amount purchased: 92,291 @ 42.20p
Value: 38,946.80£

Equiniti Group (EQN)
Director name: Wakeley,Guy
Amount purchased: 10,000 @ 285.00p
Value: 28,500.00£

Aggregated Micro Power Holdings (AMPH)
Director name: Burrell,Richard
Amount purchased: 30,000 @ 85.00p
Value: 25,500.00£

(RFX)
Director name: Smith,Stephen John
Amount purchased: 11,227 @ 179.00p
Value: 20,096.33£

(RFX)
Director name: Smith,Stephen John
Amount purchased: 11,227 @ 179.00p
Value: 20,096.33£

Anglo American (AAL)
Director name: Rutherford ,Jim
Amount purchased: 1,175 @ 1,478.00p
Value: 17,366.50£

Anglo American (AAL)
Director name: Hampton,Philip R
Amount purchased: 666 @ 1,478.00p
Value: 9,843.48£

Anglo American (AAL)
Director name: Chambers,Stuart J
Amount purchased: 425 @ 1,478.00p
Value: 6,281.50£

Surgical Innovations Group (SUN)
Director name: Rogers,Nigel
Amount purchased: 120,000 @ 3.63p
Value: 4,350.00£

Surgical Innovations Group (SUN)
Director name: McMahon,Michael John
Amount purchased: 82,759 @ 3.63p
Value: 3,000.01£

Anglo American (AAL)
Director name: Ramatlapeng,Mphu
Amount purchased: 198 @ 1,478.00p
Value: 2,926.44£

Sky (SKY)
Director name: Gilbert,Martin J
Amount purchased: 112 @ 1,018.75p
Value: 1,141.00£

Sky (SKY)
Director name: Pigasse,Matthieu
Amount purchased: 108 @ 1,018.75p
Value: 1,100.25£

Sky (SKY)
Director name: Sukawaty,Andrew (Andy)
Amount purchased: 104 @ 1,018.75p
Value: 1,059.50£

Sky (SKY)
Director name: Clarke,Tracy Jayne
Amount purchased: 70 @ 1,018.75p
Value: 713.13£

Miton Group (MGR)
Director name: Williams,Gervais
Amount purchased: 396 @ 38.87p
Value: 153.94£

Miton Group (MGR)
Director name: Harrison ,Piers Godfrey
Amount purchased: 396 @ 38.87p
Value: 153.94£

Miton Group (MGR)
Director name: Barron,David
Amount purchased: 396 @ 38.87p
Value: 153.94£


Top Director Sells
Daily Mail And General Trust A (non.v) (DMGT)
Director name: Beatty,Kevin
Amount sold: 61,339 @ 602.58p
Value: 369,616.56£

Cybg (CYBG)
Director name: Duffy,David
Amount sold: 18,465 @ 337.20p
Value: 62,263.98£

Vertu Motors (VTU)
Director name: Harrison,Ian
Amount sold: 72,000 @ 48.50p
Value: 34,920.00£

Cybg (CYBG)
Director name: Smith,Ian S
Amount sold: 8,510 @ 337.20p
Value: 28,695.72£

Cybg (CYBG)
Director name: Crosbie,Debbie
Amount sold: 8,324 @ 337.20p
Value: 28,068.53£

Serco Group (SRP)
Director name: Cockburn,Angus
Amount sold: 27,197 @ 97.40p
Value: 26,489.88£

Aggregated Micro Power Holdings (AMPH)
Director name: Burrell,Richard
Amount sold: 30,000 @ 84.90p
Value: 25,470.00£

Vertu Motors (VTU)
Director name: Harrison,Ian
Amount sold: 3,000 @ 49.52p
Value: 1,485.45£