Director dealings: Bellway management offload shares ahead of annual report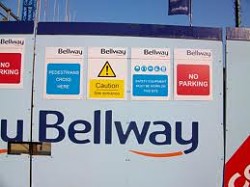 Bellway's chief executive, who had been on a leave of absence since August, Ted Ayres disposed of 18,768 ordinary shares in the residential property developer on Friday.
Ayres' share sale, totalling £643,526.60, was not the only one for the Newcastle-based firm on Friday either as group finance director Keith Adey also let go of 10,948 ordinary shares at 3,428.85p each for a total of £375,390.
The sale came after two consecutive days of falling share prices on the London Stock Exchange for Bellway which started the week at 3,658p.
Bellway also announced on Friday that its annual report for the trading year ended 31 July had been issued to shareholders and would be available before the group's annual general meeting on 13 December.
As of 1650 GMT, Bellway shares were up 1.02% 3,450.00p.
Top Director Buys
Value And Income Trust (VIN)
Director name: Oakeshott,Matthew A
Amount purchased: 50,000 @ 275.00p
Value: £137,500.00

Value And Income Trust (VIN)
Director name: Oakeshott,Matthew A
Amount purchased: 50,000 @ 275.00p
Value: £137,500.00

Inmarsat (ISAT)
Director name: Pearce,Rupert
Amount purchased: 19,260 @ 519.21p
Value: £99,999.85

Inmarsat (ISAT)
Director name: Sukawaty,Andrew (Andy)
Amount purchased: 19,260 @ 519.21p
Value: £99,999.85

Relx Plc (REL)
Director name: MacLeod,Robert
Amount purchased: 3,700 @ 1,725.00p
Value: £63,825.00

Xlmedia (XLM)
Director name: Weihs,Ory
Amount purchased: 30,000 @ 161.00p
Value: £48,300.00

Bluerock Diamonds (BRD)
Director name: Waugh,Adam
Amount purchased: 1,714,000 @ 1.75p
Value: £29,995.00

Spirent Communications (SPT)
Director name: Thomas,Bill
Amount purchased: 20,633 @ 96.93p
Value: £19,999.57

Grafenia (GRA)
Director name: Gunning,Peter R
Amount purchased: 131,906 @ 11.75p
Value: £15,498.95

Castings (CGS)
Director name: Cooke,Brian J
Amount purchased: 3,000 @ 425.00p
Value: £12,750.00

Castings (CGS)
Director name: Cooke,Brian J
Amount purchased: 2,000 @ 437.00p
Value: £8,740.00

Diageo (DGE)
Director name: Ferrán,Javier
Amount purchased: 322 @ 2,572.00p
Value: £8,281.84

Grafenia (GRA)
Director name: Gunning,Peter R
Amount purchased: 68,094 @ 11.20p
Value: £7,626.53

N4 Pharma (N4P)
Director name: Theobald,Nigel
Amount purchased: 56,656 @ 7.93p
Value: £4,489.99

Informa (INF)
Director name: Carter,Stephen A
Amount purchased: 256 @ 705.00p
Value: £1,804.80

Blackrock Throgmorton Trust (THRG)
Director name: Beart,Simon
Amount purchased: 157 @ 474.30p
Value: £744.65

Blackrock Throgmorton Trust (THRG)
Director name: Beart,Simon
Amount purchased: 157 @ 474.30p
Value: £744.65

Temple Bar Inv Trust (TMPL)
Director name: Reeve,John
Amount purchased: 38 @ 1,305.00p
Value: £495.90

Temple Bar Inv Trust (TMPL)
Director name: Reeve,John
Amount purchased: 37 @ 1,305.00p
Value: £482.85

Diageo (DGE)
Director name: Mikells,Kathryn
Amount purchased: 9 @ 2,572.00p
Value: £231.48

Qinetiq Group (QQ.)
Director name: Wadey ,Steve
Amount purchased: 85 @ 235.75p
Value: £200.39

Share Plc (SHRE)
Director name: Thomas ,Gareth
Amount purchased: 619 @ 24.20p
Value: £149.80

Share Plc (SHRE)
Director name: Tolkien,Richard
Amount purchased: 619 @ 24.20p
Value: £149.80

Share Plc (SHRE)
Director name: Ecsery,Francesca Eva
Amount purchased: 619 @ 24.20p
Value: £149.80

Share Plc (SHRE)
Director name: Birkett,Mike
Amount purchased: 619 @ 24.20p
Value: £149.80

Share Plc (SHRE)
Director name: Stone,Richard William
Amount purchased: 619 @ 24.20p
Value: £149.80

Lloyds Banking Group (LLOY)
Director name: Horta-Osorio,Antonio
Amount purchased: 224 @ 66.83p
Value: £149.69

Glaxosmithkline (GSK)
Director name: Vallance,Patrick
Amount purchased: 10 @ 1,364.18p
Value: £136.42

Glaxosmithkline (GSK)
Director name: Walmsley,Emma
Amount purchased: 10 @ 1,364.18p
Value: £136.42

Glaxosmithkline (GSK)
Director name: Redfern,Dominic
Amount purchased: 10 @ 1,364.18p
Value: £136.42

Lloyds Banking Group (LLOY)
Director name: Culmer,George
Amount purchased: 187 @ 66.83p
Value: £124.96

Lloyds Banking Group (LLOY)
Director name: Colombás ,Juan
Amount purchased: 187 @ 66.83p
Value: £124.96

Glaxosmithkline (GSK)
Director name: Whyte,Victoria
Amount purchased: 9 @ 1,364.18p
Value: £122.78

Glaxosmithkline (GSK)
Director name: Dingemans,Simon
Amount purchased: 9 @ 1,364.18p
Value: £122.78


Top Director Sells
Bellway (BWY)
Director name: Ayres,Edward (Ted)
Amount sold: 18,768 @ 3,428.85p
Value: £643,526.60

Bellway (BWY)
Director name: Adey,Keith
Amount sold: 10,948 @ 3,428.85p
Value: £375,390.52

Sophos Group (SOPH)
Director name: Hagerman,Kris
Amount sold: 57,752 @ 597.00p
Value: £344,779.43

Sophos Group (SOPH)
Director name: Bray,Nick
Amount sold: 23,105 @ 597.00p
Value: £137,936.85

Wood Group (john) (WG.)
Director name: Kemp,David
Amount sold: 6,615 @ 714.50p
Value: £47,264.17