Oliver Haill Sharecast | 28 Mar, 2017
14:02

- Updated: 09:47
Brexit timeline: May's Article 50 letter kicks off divorce proceedings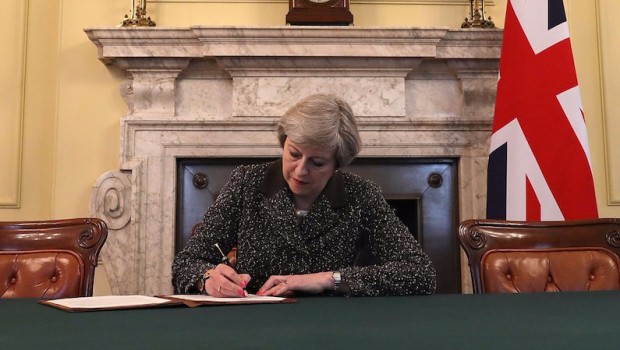 Wednesday will see Britain fire the starter's gun on the two-year negotiating process to separate from the European Union by triggering Article 50 of the Lisbon treaty - though the bloc's response and hence the major market response is not likely until Friday.
Shortly after 1630 BST yesterday, Prime Minister Theresa May signed a letter formally notifying the European Council of Britain's intention to leave the bloc.
At around 20 minutes past one o'clock Brussels time (1220 BST), newly appointed EU ambassador Sir Tim Barrow will personally deliver to European Council President Donald Tusk this letter, which formally kicks off the two-year process. At around the same time, May will stand up in the House of Commons to deliver a speech.
Tusk has promised to contact all the remaining 27 EU member states and provide a response to May within 48 hours, outlining a 'draft Brexit framework' agreeing terms of negotiation.
But formal guidelines, including priorities, principles that cannot be compromised and the structure of the talks, will not be agreed until a 29 April summit where leaders of the remaining 27 members will meet to finalise a common position, which will be handed over to the EU's chief Brexit negotiator, Michel Barnier and his snazzily titled Task Force 50 department.
France's presidential election on 7 May is likely to add to the delay in the bloc deciding on its negotiating directives.
So if all goes smoothly, negotiations should begin in mid-May and need to be complete by 29 March 2019 - unless both sides agree on an extension.
The month of May will also see the Queen's Speech outline the Great Repeal that will incorporate those thousands of EU laws into the statute book "wherever practical", so that the government can begin amending or repealing laws it does not like before the exit process is complete. During the two-year negotiation period, EU laws would still apply to the UK but the Government will also need to pass a dozen or more pieces of complex primary legislation to prevent commercial and legal chaos in two year's time.
Impact on financial markets
The movement of the pound has been closely linked to Brexit news since the referendum last June but having hit a multi-week high on Monday, it has come off that highs and on Wednesday was trading at its weakest in over a week against the US dollar.
Analyst Michael Hewson at CMC Markets did not think Wednesday will be catalyst for a further leg lower in current bearish sentiment against sterling, particularly since short positions against the pound remain at record levels.
As the 29 March date is no longer a surprise, markets have had ample time to prepare and with economic data still fairly buoyant and largely already priced in.
If anything, Hewson suggested the act of triggering the divorce proceedings "could be one of those 'sell the rumour, buy the fact' type of trades", which has the potential to drive the pound up towards the $1.30 level it last saw before the Bank of England rate cut in August.
David Lamb, head of dealing at Fexco, agreed that markets are braced not for the shot but the recoil as, for all its historical significance, the Article 50 letter to Brussels is a mere formality.
"But the EU's response later this week could give a much clearer indication of where the battle lines will lie," he said.
Details are everything for currency traders, said Neil Wilson at ETX Capital, especially now the phoney war is over.
He said the pound could be in for a rough ride on Wednesday but the "big question now is whether Brexit has been fully factored in".
Many currency analysts have suggested a truly hard Brexit has not been priced into sterling and Wilson said the currency could move lower still if negotiations take a sour turn "$1.10 is feasible".
Either way, he warned there would be a long period of volatility for the pound and UK assets, with sterling being incredibly sensitive to the finer detail of negotiations but also offering a gauge of how the market sees Britain's position -- it will rise on any indications of a softer Brexit and fall on any signs it's going to be hard and could collapse to unimaginable depths if the 'cliff-edge' nears.
But markets are only a gauge and are not always that great at pricing in political risk, he added.
"Theresa May has set the UK on course for a hard Brexit – no deal is better than a bad deal – but we can expect this to shift in due course once the EU sets out its stall.
"This was always the starting point for bargaining. There are already signs of a softening in the government's stance around things like the exit bill demanded by the EU and the role of the European Court of Justice.
"It's going to be a fine line for May to tread as she's in hock to the hard Brexit camp in the Conservatives. She also doesn't want to be seen to cave into demands from Scottish nationalists for a softer exit. All this points to sustained risk for sterling – if an acceptable deal isn't done in time then the UK crashes out of the bloc on WTO terms and all the tariffs that entails."