Wednesday preview: Tesco's dividend to return, pound hangs on services PMI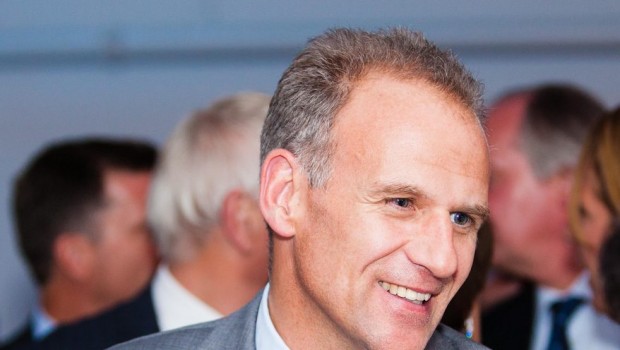 Two events are set to dominate the business agenda on Wednesday, half-year results from Britain's biggest food retailer and a survey on the performance of the country's dominant services sector.
Wednesday's services purchasing managers' index from IHS Markit follows two limp PMI surveys on the manufacturing and construction industries in the first two days of the week.
"With both PMIs having disappointing so far this week, we're now looking towards the most important of the three, the services PMI, tomorrow to complete the hatrick," said market analyst Craig Erlam at Oanda.

When last Friday's gross domestic product figures came in showing the UK's weakest annual growth rate since 2013, services was the only segment to contribute positively, so with the other parts of the economy still performing insipidly, Jane Foley at Rabobank noted that there's a lot resting on this sector.
"Within services the largest contribution to Q2 quarterly growth came from the distribution, hotels and restaurants subsector and within this the best performing area was retailing (excluding motor vehicles). The Office of Nationals Statistic simultaneously reported last Friday that there was a slowdown in household spending in Q2, driven by a decline in the purchase of motor vehicles.
"Going forward, this sector is likely to more broadly feel the impact of the sustained increase in the CPI inflation rate and the resultant downward pressure on real wages. This is a sizeable risk to economic growth going forward."
The consensus forecast is for the services PMI to remain at 53.2, indicating a reasonable level of growth.
TESCO RESULTS
Tesco's shares have reached a five-month high in the run-up to these interim results, with anticipation that the grocer's dividend will return outweighing some negative broker coverage in recent days.
In June, the FTSE 100 group released a first-quarter trading update that showed a sixth consecutive improvement in like-for-like sales in what was its best quarterly gain for several years.
Like-for-like sales growth of 2.3% was a tad ahead of the City consensus, while overall group LFL sales growth of 1% reflected international sales that were 3% lower, dragged down by the poor performance in Asia, particularly Thailand.
Any shareholder returns are likely to be limited, said analyst Neil Wilson at ETX Capital.
"Nevertheless dividends would be a clear sign to the market that the Dave Lewis turnaround is firmly entrenched. Meanwhile with the Booker 'merger', Amazon's encroachment on the grocery market, an embarrassing fraud trial and the ongoing hit from discounters, there should be plenty for investors to chew over."
An update on the Booker deal would be welcome but this is really a distraction from the real business of turning Tesco around. The lukewarm reaction to the deal – shares are flat since it was mooted – reflects the fact that this is a diversion from the main task at hand. If the CMA blocks it it's hard to see many investors shedding a tear.
For the interims, UBS was looking for UK & Irish like-for-like sales up 2.4%, with 2.7% UK LFLs in the second quarter following 2.3 in the first.
Asia is likely to remain impacted by discontinuation of unprofitable bulk-pallet sales in Thailand, while Europe should return to growth with turnaround efforts in Poland.
With Tesco giving mid-term EBIT margin guidance of 3.5-4.0%, UBS forecasts group earnings before interest and tax of £704m, a margin of 2.48%.
Deutsche Bank forecast EBIT of £713m or a group 2.5% EBIT margin, feeding to earnings per share of 4.7p, up 27%.
"We expect an update from the result of the triennial actuarial pension review. The accounting pension deficit increased materially from £3.2bn to £5.9bn at the interim
results last year," said Deutsche, assuming no change in the currently agreed £270m per annum contribution to reduce the deficit.
"When Tesco announced the Booker acquisition, it also said it would recommence paying dividends in respect of the financial year 2017/18," analysts added, expecting an interim dividend of 1.05p to be declared, representing 30% of a full year expected DPS of 3.5p.
Wednesday October 04
INTERNATIONAL ECONOMIC ANNOUNCEMENTS
Crude Oil Inventories (US) (15:30)
ISM Non-Manufacturing (US) (15:00)
Retail Sales (EU) (11:00)
UK ECONOMIC ANNOUNCEMENTS
BRC Shop Price Index (00:01)
Construction PMI (09:30)
FINALS
Avacta Group, Ceres Power Holdings
INTERIMS
Tesco, Walker Greenbank
TRADING ANNOUNCEMENTS
Avacta Group, Topps Tiles
AGMS
AdEPT Telecom, Amedeo Air Four Plus Limited
FINAL DIVIDEND PAYMENT DATE
Gateley (Holdings) , Stagecoach Group
INTERIM DIVIDEND PAYMENT DATE
Savills