Oliver Haill Sharecast | 07 Mar, 2017
14:42

- Updated: 14:53
Wednesday preview: No surprises from Chancellor's Budget mind-palace?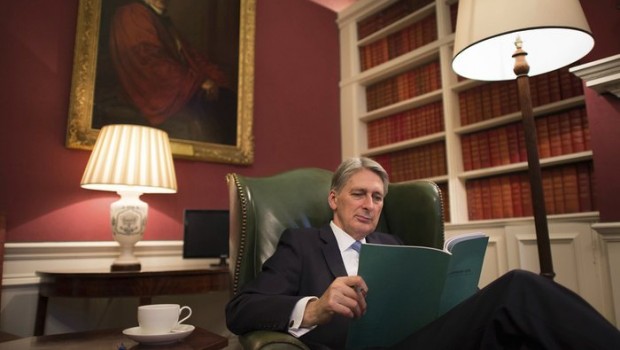 Wednesday will largely revolve around the Budget in the UK, with several large companies reporting include giant insurers Admiral and Legal & General, plus the perenially-unpredictable G4S.
Almost all eyes will be on the Chancellor for news of the Office for Budget Responsibility's UK growth forecasts, targets for much improved government borrowing and what fiscal plans that allows, further cuts to corporation tax, a possible rejig of business rates plans, plus any other fiscal adjustments such as raising duties on alcoholic drinks and cigarettes.
The total public sector net borrowing (PSNB) requirement for the 2016/17 fiscal year is now on course to be around £10bn below the £68bn forecast by the OBR in the autumn statement, thanks in part to stronger-than-expected growth seen in the second half of last year that has helped to boost tax revenues.
Caution likely to reign
Over the weekend, Philip Hammond said he was likely to continue his prior cautious approach, repeatedly cautioning against "reckless" spending with the current Brexit-related uncertainty offering such huge potential risks and costs ahead that a £60bn "fighting fund" is being held back.
Economists at broker Peel Hunt said the OBR is likely to upgrade its GDP growth forecast for this year, which is currently at the lower end of the range.
"Hence the borrowing projections are likely to be lowered, giving the Chancellor some scope for politically desirable discretionary spending increases."
In practice, Peel Hunt conceded, Hammond is likely to continue his prior cautious approach, with some tax increases even likely to be under consideration.
In an article in the Sunday Times, Hammond asserted that "we cannot take our foot off the pedal" in the mission to eliminate the budget deficit by the end of the next parliament and then reiterated this message in a series of television interviews on Sunday.
Liberum strategists also pointed out that the decision to discontinue the spring budget in favour of one major fiscal policy event a year, in the autumn, as a further reason to expect no major announcements.
Last autumn, 'Spreadsheet Phil' stated that 2017 will be a year of transition: "The government will retain the option to make changes to fiscal policy at the spring statement if the economic circumstances require it."
Although Chancellors often downplay expectations so they can then exceed them at the ballot box, Hammond is not bluffing, said Pantheon Macroeconomics, as while OBR will forecast lower near-term borrowing the "fiscal headroom" further ahead will not rise.
Possible policies
"Accordingly, we think that the Chancellor will announce a package of measures that results in only a modest increase in borrowing. At the top of the Chancellor's list of priorities appears to be finding more money for social care and for a new technical training qualification.
"Mr. Hammond also looks set to alleviate the impact of April's business rates reform, which will result in large increases in property taxes for businesses where rental values have increased sharply over the last decade. Last month, he said he was in "listening mode" when hearing of businesses' plight."
The Chancellor is also expected to announce extra cash to relieve the pressure on local authorities, plus some transitional relief for those small businesses hit by the business rates changes and funding for the introduction of new vocational T-levels to boost technical education.

Press reports, nestled among rumours that his aides joke that detail-focused Hammond has a 'mind palace' akin to Benedict Cumberbatch's Sherlock Holmes, have suggested other revenue-raising measures could include increasing the rate of duty on alcoholic drinks significantly, while extra money for social care also might be found by increasing the intensity of cuts to other departments' budgets.
There may also be further cuts to corporation tax, with the Treasury scheduled to cut the main rate to 19% from the current 20% in 2017/18, and to 17% in 2020/21.
One suggestion is that the Chancellor might announce the personal allowance for income tax will rise in 2018/19, although he has another opportunity to act in the autumn.
To offset this, the Chancellor is mooted to be planning to ensure self-employed income is taxed at broadly the same rate as earned income, by increasing the rate of Class 4 National Insurance contributions paid by self-employed workers to 12% from 9%.
Corporate results
Among stocks, Admiral's results, as with Direct Line on Tuesday, will be dominated by the impact and consequences of the recent change in the discount rate on personal injury claims, which the company has already said it expects to reduce FY16 results by £70-100m.
Noting that the results cover an unusually long gap of six months since August's interim results, broker Numis sees UK customer growth remaining at least as strong as the 11% in the first half, with upside risk expected to 2017 forecasts from a continuation of this trend against recent expectations for a slowdown in growth.
At Legal & General, investor focus will be on Solvency II: capital ratios, solvency capital generation and any details pre-released from the new Solvency II disclosure to be release on the 20 May, said UBS.
Solvency II capital generation has been guided to £1.1bn, with consensus operating profit forecasts of £1.67bn.
Down on the FTSE 250, volatile G4S and Restaurant Group report.
Security and other government outsourcing specialist G4S is forecast to report underlying revenues of £6.7bn with organic growth of 5.4%, said UBS.
The focus of the results is likely to remain on the balance sheet and working capital, analysts said.
"We believe G4S will likely continue to guide for 4-6% organic growth into FY17 versus our forecast of 4.6%."
Casual dining focused Restaurant Group has changed its CEO and CFO and has embarked upon a strategic review to turnaround its profit momentum, cutting costs, revitalising menus and revisiting site opening plans at core chains such as Frankie & Benny's, Chiquitos and Coast to Coast, with a trading statement in January revealing weak fourth-quarter sales.
For 2016, Analysts are looking for sales of £711m, pre-tax profit falling to £75m and a possible cut to the dividend to 16.2p.
"Of greater importance will be any guidance for 2017, as the consensus is already looking for a 24% drop in profits to £57 million, so at least the base for expectations is pretty low," said broker AJ Bell.