Tuesday preview: Morrison leads retail rush, BRC retail sales, EU jobs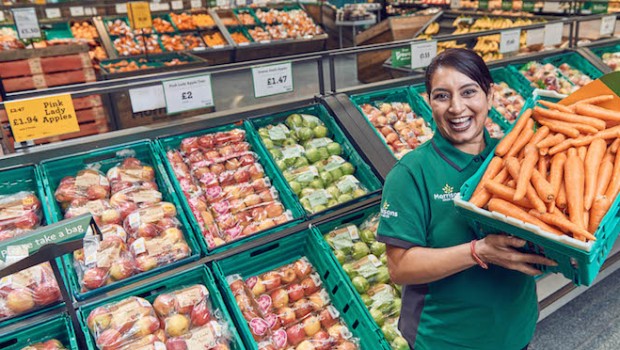 January is a big month for retail investors and Tuesday sees this start to become apparent with trading updates from Morrisons and four others, plus industry sales data from the British Retail Consortium and Kantar.
The other retail reporters are Games Workshop, Joules, Majestic Wine and Topps Tiles, while the day also sees important updates from FTSE 100 housebuilder Persimmon, building products group SIG, self storage provider Safestore and recruiter Robert Walters.
Retail sales for December from the BRC are expected to show a slowing to 0.3% in year-on-year growth in like-for-like sales values, from 0.6% in November.
"The broad picture is unlikely to have experienced any shifts in December – the big picture remains that households are struggling thanks to the squeeze placed upon them by the combination of higher inflation and slow pay increases," said Investec's Philip Shaw, noting that Christmas was on a Monday last year and the cold snap in the middle of the month could have boosted clothing sales.
"Anecdotal evidence suggests that the post-Christmas period may have been sluggish and so our overall our suspicion is that the BRC numbers may be in softer territory than November's figures."
For those hungry for more macroeconomic input, as well as the UK retail sales, there is a euro area unemployment report and German industrial production and trade data to provide plenty to chew on, not to mention trade and labour numbers from several other EU member states.
Following on from upbeat sentiment surveys a day earlier, the EU unemployment report is expected to confirm a further fall in eurozone unemployment in November to 8.7% from 8.8%. November's report also showed total sales values rose 1.5% on the year.
"Were the recent trend in the unemployment rate to continue through 2018, that could see the rate fall below 8% by year-end," said RBC Capital Markets. "And the most recent country-level data provides a number of reasons to believe that is a possibility, with the September and October data showing unemployment at last beginning to fall in France."
Elsewhere, economists at Danske Bank highlighted Japanese labour cash earnings data due in the early hours of the morning.
"It is crucial for the Bank of Japan that cash earnings begin to pick up in order for the economy to become less dependent on the global economic recovery and driven more by private demand," Danske said. "Earnings growth is still weak though and with inflation picking up due to rising energy prices, real wage growth is close to zero; thus not supporting private consumption."
COMPANY NEWS: RETAILERS
Bradford-based grocer Morrisons will report on 10 weeks of trading data covering the festive period up until the past weekend. Last year, the company's Christmas update was for nine weeks, but the current financial year is a 53-week one to 4 February.
The consensus is for like-for-like group sales growth of 1.8%.
House broker Shore Capital forecast group sales of 2.0% and, when excluding the wholesaling activities, retail LFL sales of 1.6%. This would leave the group in line to deliver an adjusted profit before tax of £365m.
But Morrisons comes into peak trading with sales momentum showing signs of slowing, said analysts at UBS, as the supermarket group faces the toughest comparative figures among its Big Four peers. Taking a "stacked" view of the past two years, "it looks in a relatively healthier place".
In the 12-weeks to 3 December, Kantar data indicated Morrisons sales were up 1.4%, while UBS's own pricing research showed three-month price inflation of 2.8% versus a market average of 2.4%, "which would imply its LFL volumes in-store are running at around -1.5% YoY.
For Topps Tiles, the last update from the company was that the first eight weeks of the financial year had seen LFL sales up 3.2%. Guidance for the full year is for 50bps of gross margin growth, assuming stable currency rates.
Clothes retailer Joules will update on Christmas trading on Tuesday and will announce interim results on 31 January, having in early December said revenue for the 26 weeks to 26 November had jumped 18.2% or 17.5% in constant currency to £96.2m.
Majestic Wine in November revealed interims PBT of £6.8m on retail LFL up 2%. Analysts at Investec forecast retail LFL up 2% for the second half of the year with gross margin broadly flat.
OTHER SECTORS
Housebuilder Persimmon is scheduled to come out with a trading statement.
UBS forecasts full year completions of 16,154, a rise of 6.5% year on year, with average selling prices up 3.2% to £213.5k resulting in total revenues up 10% to £3.45bn. An overall sales rates for the full of 0.74-0.75 is expected, implying modest declines in H2 against a high basis of comparison.
"At this stage margins are not disclosed but we expect FY17 operating margins of 28%. We also expect net cash of £1.2bn."
Robert Walters announced a surprise trading update on 12 December and provided yet another earnings upgrade, indicating full year pre-tax profits would be materially ahead of current market expectations.
Following the announcement, Numis increased its pre-tax profit estimate by 9% to £39.0m.
"We forecast Q4 like-for-like net fee growth of 20% YoY. This compares to 21% in Q3, and we note that YoY comparatives are c.3% tougher, particularly in the UK and Europe."
Tuesday January 09
INTERNATIONAL ECONOMIC ANNOUNCEMENTS
Industrial Production (GER) (06:00)
Industrial Production (GER) (07:00)
FINALS
Elegant Hotels Group , Nexus Infrastructre, Safestore Holdings
INTERIMS
Games Workshop Group, Ilika, Stock Spirits Group
TRADING ANNOUNCEMENTS
Carr's Group, Ferrexpo, Joules Group, Majestic Wine, Morrison (Wm) Supermarkets, Persimmon, Robert Walters, SIG, Stock Spirits Group, Topps Tiles
AGMS
Carr's Group, Weatherly International
FINAL DIVIDEND PAYMENT DATE
Fidelity Special Values
INTERIM DIVIDEND PAYMENT DATE
Yu Group