Thursday preview: Spain back in spotlight as Catalonia votes again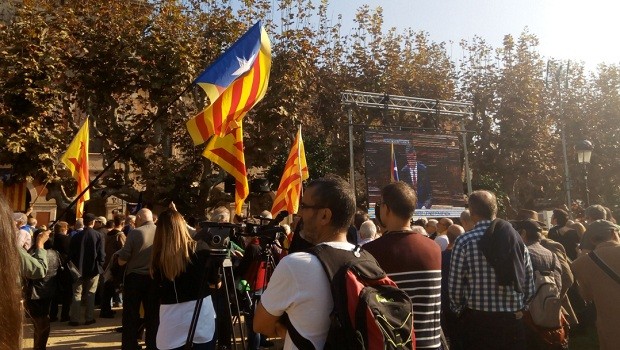 Spain will be back under the spotlight on Thursday as regional elections take place in Catalonia following October's push for independence, while in the UK there will be data on consumer confidence and public borrowing amid a festive dearth of company news.
Following a vote for independence in October's referendum and an ensuing declaration of independence by the regional government that were both slapped down by the central government and courts in Madrid, voters in Catalonia have been called to vote for a new parliament.
Unusually, several of the leading candidates in the election are either in prison or have flown to Belgium to avoid arrest orders from Madrid, the latter including former Catalan regional president Carles Puigdemont of the centrist, pro-independence Junts per Catalunya (JxC) party and the former Oriol Junqueras of fellow secessionists, the Republican Left of Catalonia (ERC).
Recent polls indicate the result will be very close, with the pro-independence parties marginally ahead of their unionist rivals in an election that is expected to see record voter participation rates.
National party Podemos could emerge as the potential king-maker with around 10 seats, noted Deutsche Bank.
"This ambitious positioning could allow them to support an ERC and Junts per Cat minority government while keeping the unilateral agenda in check," DB said. "Alternatively, if [Ciudadanos] continues on its strong momentum and ends up being the first party accompanied by a strong performance of the Socialists, Podemos could decide to support a minority unionist government."
Newspaper reports suggested any number of potential end-results, including a new coalition backing independence or a constitutionalist agreement, would find agreement exceptionally hard due to multitudinous differences on political and independence lines.
Early on Thursday the morning, the focus will be on the conclusion of the Bank of Japan monetary policy meeting and press conference, amid recent tightening speculation.
"We expect the BoJ to keep its 'QQE with yield curve control' policy unchanged but we will be listening closely to the communication from Governor Haruhiko Kuroda during the press conference as he might elaborate on recent tightening speculation," said Danske Bank, which also flagged up Danish consumer confidence and retail sales for those keen on
Among other data, in the UK, the spotlight will be consumer confidence survey from GfK released in the early hours with public sector borrowing figures for November put out at 0930 GMT.
Across the Atlantic, there will be a final update on US third-quarter gross domestic product, the personal consumption expenditure measure of inflation and reports from the Philadelphia and Chicago Feds.
Thursday December 21
INTERNATIONAL ECONOMIC ANNOUNCEMENTS
Continuing Claims (US) (13:30)
Gross Domestic Product (US) (13:30)
House Price Index (US) (14:00)
Initial Jobless Claims (US) (13:30)
Philadelphia Fed Index (US) (12:30)
UK ECONOMIC ANNOUNCEMENTS
GFK Consumer Confidence (00:01)
Public Sector Net Borrowing (09:30)
SPECIAL DIVIDEND PAYMENT DATE
PayPoint
EGMS
APQ Global Limited, Duke Royalty Limited
AGMS
Karelian Diamond Resources, Plexus Holdings, Transense Technologies, Trinity Capital
FINAL DIVIDEND PAYMENT DATE
Pan African Resources
FINAL EX-DIVIDEND DATE
Countryside Properties, Gattaca, Topps Tiles
INTERIM DIVIDEND PAYMENT DATE
Funding Circle SME Income Fund C Shs NPV, PayPoint
INTERIM EX-DIVIDEND DATE
Alliance Pharma, Burberry Group, Chagala Group Limited (DI), Discoverie Group, Iomart Group, JPMorgan Euro Small Co. Trust, Mitie Group, Nex Group , Octopus AIM VCT, United Utilities Group
QUARTERLY PAYMENT DATE
BP, Fair Oaks Income Limited 2014 Shs NPV, Volta Finance Limited