Thursday preview: Sky, Hays, N Brown and WH Smith all report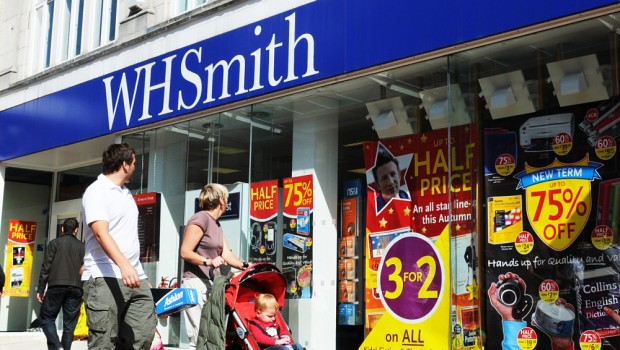 Thursday should be the busiest day yet of London's autumn reporting season, with quarterly updates from Sky and Hays, together with final results from WH Smith and interim from N Brown.
Sky will reveal results for the first three months of its new financial year.
Full year results from the subscription broadcaster in July saw a 5% increase in revenue at constant currencies feed down to a 3% fall in EBITDA on a like-or-like basis and operating profit of down £97m after absorbing £629m of costs for Premier League football rights. Earnings per share were 3% lower at 61.4p.
But Sky returned to profit growth in the fourth quarter, with operating profit up 8% to £455m as 77,000 new customers joined, while earnings per share climbed 19%
Chief executive Jeremy Darroch was confident about the "strong set of growth plans" for the new year, including a 25% investment increase in Sky original productions, the creation of 300 new technology roles to focus on streaming platforms, plus new tenure-based loyalty programme in the UK modelled on the success of a similar programme in Italy.
"We will do all this while continuing to execute against our operating efficiency plans. We enter 17/18 in a strong position with significant growth potential," he said.
Sky shares have been in limbo since December's bid by Rupert Murdoch's 21st Century Fox for the 60.9% of Sky it did not already hold, which has since been referred to a six-month probe by competition authorities.
"As the acquisition drags on, Sky is continuing business as usual," said analyst Nicholas Hyett at Hargreaves Lansdown, though noting that revenue growth is not as fast as it was.
"However, the ever-increasing cost of football rights has seen costs rise, putting profits under pressure. Should the Fox deal fall through, investors will hope that the group's new, more flexible sports packages can maximise the return on its most valuable but also most burdensome asset."
Recruiter Hays is expected to update the market on its first-quarter performance, during which time its shares have gained roughly 15% as analysts upgraded their forecasts.
The consensus forecast is for full year EBITA of £234.1m, with first-quarter growth in net fees of 8.5%.
Morgan Stanley analysts estimate like-for-like growth should remain strong and improve sequentially, supported by easier comps and continued strong growth in continental Europe.
After the 7% like-for-like net fee growth in the fourth quarter, the analysts forecast the first-quarter will see LFL growth of 10.2%, driven by strong growth in Continental Europe and the rest of the world (CEROW) and an improvement in the UK.
Those at UBS forecast 10% fee growth, expecting the UK to be broadly flat at 0% versus the fall of 5% in the preceding quarter as the private sector offsets some of the declines in the public sector.
"For AsiaPac we forecast 13% LFL growth (vs. 11% in 4Q) driven by an ongoing acceleration Australia and for CEROW we see 11% LFL growth with continued double digit growth in Germany."
UBS did not expect Hays to comment towards FY expectations at this early stage, "but the sales momentum should support consensus in our view".
RETAILERS SMITHS AND N BROWN
WH Smith will report full year results, having in August said that the Travel business, which operates outlets in airports and railway stations, was continuing to deliver a "strong performance", while the High Street business High Street business was making cost savings and margin improvements as its revenues continue to be eroded by structural shifts in the retail industry.
Deutsche Bank expect the company to report headline group profit before tax of £138m and statutory PBT of £137m.
By division the bank forecast Travel contributing over half of group sales for the first time, with profits of £95m in Travel and £61m in High Street.
The balance sheet remains robust and analysts forecast net debt of just £6m and model for a dividend of 47.8p for the full year.
Hargreaves' Hyett said progress in the travel division will be the main focus – "particularly given the group's appetite to spread its wings, with outlets in airports around the world".
Despite the headwinds facing the high street, the focus on efficiencies and cost control has kept profits in the division moving in the right direction.
"The group's pre-close update suggested we'll see that trend continue in 2017, but with exposure to the struggling UK high street and uncertain UK consumer market, outlook comments will be key."
N Brown, which is undergoing a major digital shift, is going to update on its first half performance.
First-quarter sales were up 5.6% including product sales up 10.2% thanks to further improvement in Power Brand sales and online penetration.
However, analysts at HSBC noted that this was against the weakest of last years' quarterly comparable base that gets progressively and materially tougher from Q2.
Along with increased variable costs that will limit operating leverage, the full year reduction in product gross margins, a function of the timing of negative FX, is H1 weighted.
Analysts pencilled in H1 sales up 4.3% including product revenues rising 7.6%, and a PBT down 5% to £30m.
"While the recent weakening of the USD is a positive for N Brown and wider UK and/or European apparel retail sector from FY19e, we see limited potential for upgrade to consensus expectation short term."
Thursday October 12
INTERNATIONAL ECONOMIC ANNOUNCEMENTS
Crude Oil Inventories (US) (16:00)
Industrial Production (EU) (11:00)
Initial Jobless Claims (US) (13:30)
Producer Price Index (US) (14:30)
UK ECONOMIC ANNOUNCEMENTS
RICS Housing Market Survey (01:00)
FINALS
WH Smith
INTERIMS
Booker Group, Brown (N.) Group
TRADING ANNOUNCEMENTS
Hays, Sky
SPECIAL EX-DIVIDEND DATE
River and Mercantile Group
AGMS
Sky
FINAL DIVIDEND PAYMENT DATE
South32 Limited (DI) , United Carpets Group
FINAL EX-DIVIDEND DATE
AIREA, Begbies Traynor Group, City of London Investment Group, Close Brothers Group, CPL Resources, Daejan Holdings, Photo-Me International, Schroder Japan Growth Fund, Strategic Equity Capital
INTERIM DIVIDEND PAYMENT DATE
Forterra, Macfarlane Group, Restaurant Group, UBM, Xaar, Zotefoams
INTERIM EX-DIVIDEND DATE
Braime (T.F.& J.H.) Holdings (Non-Voting), Cenkos Securities, Centrica, Charles Taylor, Curtis Banks Group, Downing Four VCT DP2011 Gen A Shs, Downing Four VCT DP2011 Str, Downing Four VCT DP2011 Str A Shs, Downing Four VCT DP2011Gen, Downing Four VCT DSO 'D' Shs, F&C Private Equity Trust, Kerry Group 'A' Shares, Manx Telecom , Morgan Sindall Group, OneSavings Bank, Puma Vct 8, Restore, Saga , Scisys, Spectris, Spirax-Sarco Engineering, Sprue Aegis, Staffline Group, Tandem Group, Tesco, TP ICAP, Trans-Siberian Gold
QUARTERLY PAYMENT DATE
GlaxoSmithKline, Total SA, XP Power Ltd. (DI)
QUARTERLY EX-DIVIDEND DATE
F&C Commercial Property Trust Ltd., JPMorgan Asian Investment Trust, Middlefield Canadian Income PCC, Primary Health Properties