Thursday preview: ECB minutes and Trump-Xi meeting under microscope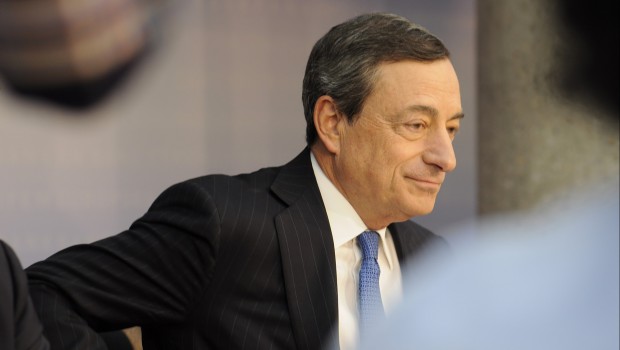 As well as trading updates from the likes of BTG, Electrocomponents, Ferrexpo and Homeserve, Thursday will see the release of European Central Bank's meeting minutes and the beginning of a two day meeting between US President Donald Trump and Chinese President Xi Jinping.
In the absence of any top-tier UK economic data on Thursday and with reports flying around about the true meaning of the central bank's last meeting, more than usual attention will be pored into the meeting accounts.
While normally, the ECB's meeting accounts offer little beyond what is said in the post-meeting press conference and Q&A, economists at RBC Capital Markets said that given the 'ECB sources' story this week this time around they are likely to be watched more closely.
Reports had suggested the March meeting was "over-interpreted" as the ECB sources put it, with several ECB officials lining since to press a more dovish message.
"Any signals that those looking for a change of the ECB's forward guidance were 'reflecting a minority position' as Belgian CB governor Jan Smets put it this week would further dampen market expectations for nearer-term rate hikes," RBC said.
Rabobank said the between presidents Trump and Xi will be of interest, with trade policy likely to be the "hot potato", after Trump has repeatedly blamed China for the US trade deficit and loss of US jobs and continually accusing the Chinese government of keeping the renminbi at artificially cheap levels.
"Perhaps the success of the meeting will all come down to that Kodak moment between Messrs. Trump and Xi, which is not necessarily a re-assuring thought either," the Dutch bank said.
"Whilst China might be able to appease Trump with promises of further liberalisation and increased openness to trade into China, it is highly uncertain whether the Chinese president is willing to offer sufficient concessions to convince Trump. Failure to come to a mutually-beneficial understanding could mark the start of US-China trade frictions and uncertainty in markets."
Corporate updates
Electrocomponents will publish a trading statement covering January to March, its fourth quarter.
UBS forecast circa 4% growth for Q4, in-line with the Q3 exit rate in January but a slowdown due to comparatives figures from last time, also being in-line with consensus for full year adjusted PBT of close to £123m.
Electrocomponents is expected to report a continued year-on-year improvement in gross margins, with cost savings looking well on track for the incremental £18m target in 2017.
"We would look for more detail over 'cost headwinds' into FY18e and any outlook for continuing gross margin expansion," UBS said.
The Swiss bank also previewed Homeserve, noting that it anticipates a short trading statement ahead of the year-end close period to report on trading through the busy second-half period.
UBS expected circa 3% earnings growth in the UK and very strong growth internationally to drive a near-13% full year EBIT increase helped by FX tailwinds.
"We would also look for any update on new initiatives: Leakbot trials in the UK, heating network rollout in the UK, potential US partner acquisitions, or possibly announcement of a new country entry."
Thursday April 06
FINALS
Electrical Geodesics Inc. (DI), Gulf Keystone Petroleum Ltd Com Shs (DI), M. P. Evans Group, PureTech Health , Zegona Communications
TRADING ANNOUNCEMENTS
BTG, Electrocomponents, Ferrexpo, Homeserve, Mothercare,
INTERIM DIVIDEND PAYMENT DATE
Diageo, Galliford Try, Joules Group, Park Group, Revolution Bars Group, Ricardo, South32 Limited (DI) , Thorpe (F.W.)
INTERIM EX-DIVIDEND DATE
Animalcare Group, Begbies Traynor Group, Bioventix, Henderson EuroTrust, Photo-Me International, Produce Investments, Smith (DS), Smiths Group, St Ives, Tiso Blackstar Group SE (DI), Tracsis, Wolseley
QUARTERLY PAYMENT DATE
Total SA
QUARTERLY EX-DIVIDEND DATE
Aberdeen Diversified Income and Growth Trust , Blue Capital Global Reinsurance Fund Ltd (DI), F & C UK High Income Trust , Marsh & Mclennan Cos Inc., Mercantile Investment Trust (The), Primary Health Properties, Schroder Income Growth Fund, SQN Asset Finance Income Fund Limited, The SME Loan Fund
SPECIAL DIVIDEND PAYMENT DATE
Independent Inv Trust
SPECIAL EX-DIVIDEND DATE
888 Holdings, Electra Private Equity, Lloyds Banking Group, Next, Paddy Power Betfair, Quartix Holdings
AGMS
Smith & Nephew
FINAL DIVIDEND PAYMENT DATE
Athelney Trust, Electronic Data Processing, Lakehouse, Rio Tinto
FINAL EX-DIVIDEND DATE
4Imprint Group, 888 Holdings, Amiad Water Systems Ltd, Amino Technologies, Aviva, BBA Aviation, Berendsen, Costain Group, Elecosoft, Fisher (James) & Sons, Franchise Brands, HGCapital Trust, Hikma Pharmaceuticals, IMI, Ladbrokes Coral Group, Lighthouse Group, Lloyds Banking Group, Melrose Industries, Moneysupermarket.com Group, Nichols, Octopus Titan VCT , Paddy Power Betfair, Pearson, Quartix Holdings , Rentokil Initial, Rotork, Sanne Group, Schroder Asian Total Return Investment Company , Shore Capital Group Ltd., St James's Place, Stadium Group, Telit Communications, Ultra Electronics Holdings, Vesuvius, Virgin Money Holdings (UK) , Wood Group (John)
ANNUAL REPORT
Amryt Pharma, Axiom European Financial Debt Fund Limited