Thursday preview: ECB goals expected ahead of World Cup kickoff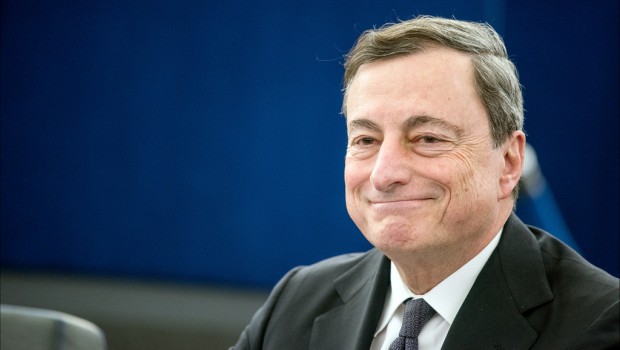 Thursday's World Cup kick off in Russia could prove underwhelming compared to the earlier European Central Bank policy meeting and press conference, which has got the City positively frothing with excitement.
Ahead of tournament hosts Russia playing equally unfancied Saudi Arabia at 1600 BST, macroeconomics fans have plenty to watch beforehand, starting with jobs data from Australia (500-1 odds of winning the World Cup), retail and industrial China (not qualified for the tournament) and industrial data from Japan (200-1) in the Asian session, before the European awake and peruses inflation numbers from Germany (9-2) and France (13-2), before UK retail figures from the Office for National Statistics at 0930 (England are available from 14-1 up to 18-1, but none of the other home nations qualified).
While the Russia game could prove to be a bore-draw, the ECB decision, which will be published at 1245 BST and the accompanying press conference with Italy's Mario Draghi (whose home nation surprisingly failed to qualify for the World Cup) will see plenty of attack and defence with reporters.
Many pundits were predicting it will be compelling TV, with recent comments from ECB officials pointing to this being a significant 'live' meeting, in part since the quantitative easing programme has been pencilled in to run until September. At least, policymakers are expected to use this opportunity to set out their goals.
Speaking in Berlin last week, ECB chief economist Peter Praet was on the front foot as he gave a speech about about "improving" signals showing the convergence of inflation towards the ECB's targets aim, with the tight labour market seeming to translate into wage growth.
Other ECB council members said rates could rise faster than market thinks, before mid-2019 and that an end to QE this year is "plausible", leading markets to send bond yields higher and putting a floor under the euro after a recent drop.
Money markets repriced the first interest rate hike to take place in mid-2019, having only a week before been pushed back to the end of next year, noted analyst Neil Wilson at Markets.com. Wilson was not sure, however, if this will materialise as an actual policy announcement or an announcement of an announcement, with the formal shift in QE to be left until July.
"Whether it comes in June or July, the chances are that it won't be a hard stop in September. Extending QE to the end of the year at a slower pace but with the necessary caveats to review should economic conditions dictate looks to be the most likely outcome. But this hawkish tilt does suggest that volatile Italian bond yields and softer economic data is not going to dissuade the ECB from walking the fine line towards the exit. But those are important factors that could deter the doves from turning more hawkish."
Taking in volatility in bond, currency and commodity markets, political risks around Italy and the US, plus further evidence of slowing growth and spiking inflation, HSBC said Draghi is likely to announce a three-month QE extension, but expect the announcement to come later, with July a more likely candidate. "So we do not expect any policy announcements or changes to forward guidance on QE and policy rates at the upcoming meeting."
BoA Merrill Lynch expects the meeting to result in the ECB announcing the end of QE by December 2018. "We still expect the first depo rate hike in September 2019. We believe the ECB may be in a hurry to close the QE chapter. We think this is essentially political, as the ECB would not want its monetary policy to be affected by claims of supporting or conversely impairing the new policy course in Italy."
Adrian Hilton, a bond fund specialist at asset manager Columbia Threadneedle, said there was a "good chance" that the ECB discusses the end of its QE programme at its meeting tomorrow, even it does not reach a final decision on the precise timing.
"We expect a short taper, with the programme wound up by December this year," Hilton said. "In a sense, whether or not they decide on that tomorrow doesn't really matter; the programme hits capacity constraints around the end of the year in any case and must be terminated. The most potent monetary policy tool right now is the guidance they give around the full reinvestment of maturing QE assets and, in due course, the timing of the first rate hike."
Updated ECB staff forecasts will also be published at this meeting.
HSBC expected material upward revisions to the ECB's inflation forecast, while growth in 2018 is likely to be cut from 2.4% to 2.1%, but stay unchanged in 2019 and 2020.
COMPANY NEWS
Aveva will report final results on Thursday, the first report since the completion of the Schneider Electric Software merger, with a trading statement mid-April for the historical Aveva business that revealed a double digit constant currency growth for the year after a first half at 5.9%.
The consensus forecast is for sales of £700m and EPS of 76p.
As the deal was structured as a takeover of Aveva by Schneider the pro forma results will be important, said UBS, as will the first public appearance of new CEO Craig Hayward.
"Although we expect less specific targets/roadmap (sparing such for a CMD later this year), we expect some indications on his vision on the new Aveva," analysts said, believing Schneider is likely lower growth than the Aveva side, which has benefited from the stabilization in Oil & Gas, as well as strength in Marine.
Following a profit warning in March, PZ Cussons resulted in profit before tax expectations being slashed around 17% with management guiding to a range of £80-85m.
The FTSE 250-listed group, which owns Carex and Imperial Leather and with Nigeria the group's single largest market, is an unusual business, said analyst Nicholas Hyett at Hargreaves Lansdown, but he said the pressures it is facing are "all too familiar" in the industry.
"A mixture of cost inflation, increasing competition and cash strapped consumers in Nigeria and the UK have seen margins and volumes struggle. The group's response has been to focus on reducing costs, and narrowing the new product pipeline to focus on a smaller number of high impact launches," Hyett said, though the results of those initiatives are not likely yet.
Broker Numis does not anticipate any major changes to the trading patterns or current consensus expectations. "In the UK, we expect trading conditions to have remained competitive impacting on the sales of its mass body/hand wash portfolio. In Nigeria, consumer demand has been constrained, reflecting the challenging economic back-drop, which has been exacerbated by intense competition in certain categories such as milk.
"We expect the company to provide an update on its initiatives outlined in March around its overhead costs, innovation and portfolio management to mitigate the impact of lower sales."
Thursday June 14
INTERNATIONAL ECONOMIC ANNOUNCEMENTS
Retail Sales, Fixed Asset Investment, Industrial Production (CH)
Business Inventories (US) (15:00)
Consumer Price Index (GER) (07:00)
Continuing Claims (US) (13:30)
ECB Interest Rate Decision and Press Conference (EZ) (12:45)
Import and Export Price Indices (US) (13:30)
Initial Jobless Claims (US) (13:30)
Retail Sales (US) (13:30)
FINALS
Aveva Group, Consort Medical, Majestic Wine, Mountview Estates, Seneca Global Income & Growth Trust, Syncona Limited NPV
INTERIMS
CareTech Holding, Safestore Holdings
TRADING ANNOUNCEMENTS
Brown (N.) Group, PZ Cussons
GMS
Future
SPECIAL EX-DIVIDEND DATE
Capital Gearing Trust, Impax Asset Management Group, Persimmon
AGMS
Christie Group, Concepta, ECSC Group, Himalayan Fund NV, Middlefield Canadian Income PCC, Morrison (Wm) Supermarkets, Plaza Centers NV, Providence Resources, Regal Petroleum, Sirius Petroleum, Steppe Cement Ltd, Walcom Group (DI)
UK ECONOMIC ANNOUNCEMENTS
Retail Sales (09:30)
FINAL DIVIDEND PAYMENT DATE
Hostelworld Group , The Gym Group
FINAL EX-DIVIDEND DATE
3i Group, 3i Infrastructure, Aberdeen Japan Investment Trust , Alliance Pharma, Applegreen, Camellia, Capital Gearing Trust, Dillistone Group, Discoverie Group, Electrocomponents, Forterra, Harvey Nash Group, Helical, Intermediate Capital Group, JPMorgan Euro Small Co. Trust, Keystone Law Group , Mears Group, Mediclinic International , Monks Inv Trust, New Century AIM VCT 2, NMC Health, Pets at Home Group , RHI Magnesita N.V. (DI), S&U, Safestyle UK , Severn Trent, System1 Group, Templeton Emerging Markets Inv Trust, Vianet Group, WPP
INTERIM DIVIDEND PAYMENT DATE
Cerillion
INTERIM EX-DIVIDEND DATE
British Empire Trust, Brunner Investment 5% Prf, Hollywood Bowl Group, Nexus Infrastructure , Orchard Funding Group , Shaftesbury, Sherborne Investors (Guernsey) 'B' Limited, Triple Point Vct 2011 A
QUARTERLY EX-DIVIDEND DATE
Assura , Ediston Property Investment Company, XP Power Ltd. (DI)