Renae Dyer Sharecast | 01 Feb, 2017
13:19
Thursday preview: Bank of England unleashes 'Super Thursday'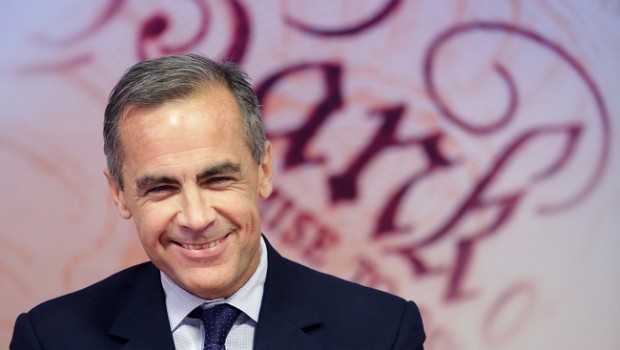 The Bank of England's so-called 'Super Thursday' will take centre stage with the release of the interest rate decision, minutes from the policy meeting and the Quarterly Inflation Report.
The Bank is widely expected to keep interest rates unchanged at 0.25% and the asset purchase programme at £425bn.
The minutes will reveal how Monetary Policy Committee members voted on the policy decision along with possible hints on the direction of interest rates and stimulus going forward.
However, it will be the Quarterly Inflation Report that will be the key focus as it reveals the Bank's latest forecasts on economic growth and inflation. At the November inflation report, the BoE said it expects gross domestic product to rise 2.2% in 2016 before slowing to 1.4% in 2017 and picking up to 1.5% in 2018 and 1.6% in 2019.
GDP rose 2.0% in 2016, according to official data last week, down from 2.2% in 2015 and 3.1% in 2014.
"Any revision to the economic growth forecast is likely to be upwards, though it's still likely to be lower than the estimate issued by the central bank before the EU referendum," said Laith Khalaf, senior analyst Hargreaves Lansdown.
"So far it looks like the Bank of England was wide of the mark in predicting the effect of Brexit on the UK economy, though we shouldn't count our chickens just yet, as shifts in economic activity can take a long time to register."
The analyst added that rising inflation is a given as a weaker pound pushes up import costs. The Bank last inflation report estimated the consumer price index will increase 1.3% before picking up to 2.8% in 2017 and easing back to 2.7% in 2018 and 2.5% in 2019.
The Office for National Statistics revealed in January that CPI rose 1.6% in the year to December 2016.
BoE Governor Mark Carney has said there is a limit to which the central bank will tolerate inflation overshooting its 2% target.
"The Bank of England's inflation forecasts have tracked gradually higher over time, though to date the Bank remains convinced that rising inflation is a short term problem," said Khalaf.
"However for consumers this still means a pinch on household budgets this year unless we see some pick-up in wage growth."
Thursday 02 February

INTERIM DIVIDEND PAYMENT DATE
Tongaat-Hulett Ltd.

INTERIM EX-DIVIDEND DATE
Cohort, CPL Resources, CVC Credit Partners European Opportunities Ltd EURO, CVC Credit Partners European Opportunities Ltd GBP, Downing One VCT , IG Group Holdings, NB Private Equity Partners Ltd., Pennon Group, Premier Asset Management Group

QUARTERLY EX-DIVIDEND DATE
SQN Asset Finance Income Fund Limited, The SME Loan Fund, Toro Limited

INTERNATIONAL ECONOMIC ANNOUNCEMENTS
Continuing Claims (US) (13:30)
Initial Jobless Claims (US) (13:30)
PMI Construction (09:30)
Producer Price Index (EU) (10:00)

Q4
Royal Dutch Shell 'A', Torchmark Corp.

FINALS
Royal Dutch Shell 'A', Torchmark Corp.

SPECIAL EX-DIVIDEND DATE
Calculus VCT 'C' Shares

AGMS
Aberdeen Asset Management, Avon Rubber, Compass Group, JPMorgan Asian Investment Trust, On The Beach Group , Zoopla Property Group

TRADING ANNOUNCEMENTS
Compass Group

UK ECONOMIC ANNOUNCEMENTS
BoE Interest Rate Decision (12:00)

FINAL DIVIDEND PAYMENT DATE
WH Smith

FINAL EX-DIVIDEND DATE
Catco Reinsurance Opportunities Fund Ltd (DI), Catco Reinsurance Opportunities Fund Ltd (DI) C shares, Chrysalis VCT, Hadrian's Wall Secured Investments, Victrex plc