Thursday preview: Astra, Burberry, Sainsbury's, National Grid results due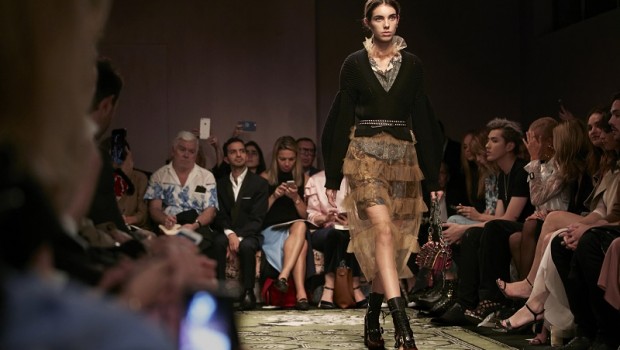 Thursday is due to see the latest round of Brexit talks kick off again in Brussels, UK industrial and trade data and results from the likes of AstraZeneca, Burberry, Halfords, National Grid and Sainsbury's.
As Brexit minister David Davis sets of to meet adversary Michel Barnier, traders were looking for the pound to move significantly if there seems to be any prospect that trade talks could begin in December.
"For this to happen there will have to be more movement on the three legacy issues related to the Northern Ireland border, the divorce settlement and the rights of EU citizens," said analysts at Rabobank.
Earlier this week the UK government published a paper aimed at providing reassurance that the process of registering existing EU citizens in the UK will not be obstructive.
Industrial production, manufacturing and construction output data will be published by the Office for National Statistics at 0930 GMT, with the ONS estimating industrial production rose by 0.3% month-to-month in September.
Recent soft data has suggested reasonable momentum in the manufacturing sector, while a warm September backs up the ONS estimate that energy supply output fell.
The consensus forecast is for construction output to fall 0.7% month-on-month, with the ONS initially estimating output fell 1%.
In trade economists at Pantheon Macroeconomics expected the trade deficit to have narrowed to about £4bn in September, from £5.7bn in August, when the deficit was unusually large due to a surge in imports of erratics and finished goods, which also are volatile.
COMPANY RESULTS
Britain's second largest supermarket, Sainsbury's, is scheduled to report first-half results, having already flagged profits before tax are likely to be lower than those in the second half.
July's first-quarter like-for-like retail sales excluding fuel grew 2.3% across the group, a sizeable improvement from the lifeless growth in the fourth quarter of last year and the decline seen in the same period a year earlier.
The company said it was working with suppliers to offer "market-leading value" and had improved its price position versus competitors in the quarter, while also noting that it was on track to achieve £145m of cost savings this year as part of a three-year target of £500m
Ahead of the interims, Barclays forecasts second quarter LFL sales of 1.8%, and first half underlying PBT down 13.4% to £240m.
"We expect a material decline in 1H PBT, but this is exaggerated by Argos not being in the base," analysts said, as Argos lost £26m in the comparable period.
"If Sainsbury reiterates its comfort with FY consensus – as it did in July – then this would at least imply a return to profit growth in 2H. Although Sainsbury will not split out sales and profits between the supermarkets and Argos, we look for any clues as to the underlying margin pressure in the core supermarket business."
Deutsche Bank's analysts expect slower grocery sales growth combined with a decline in grocery margins to be the main concern in the results but noted that full year consensus estimates suggest a strong recovery in the second half.
"We like the long-term strategy of integrating Argos and improving multi-channel capabilities and think synergies could positively surprise. However, we see risk from the increased exposure to general merchandise sales in a consumer downturn."
Ahead of AstraZeneca putting out third quarter numbers, broker Hargreaves Landsown was not expecting product sales will return to positive territory, as loss of patent on blockbuster drugs Crestor and Seroquel continues to dent performance, but that externalisation revenues should continue to offset this, helped by recent deals to sell non-core assets – including a $555m anaesthetics deal with Aspen.
Supporting the dividend with asset sales is not a sustainable strategy and management and investors are crossing their fingers for more successes from the Astra pipeline after the disappointment of the MYSTIC lung-cancer trial failure.
"Growth platforms have been growing slowly but steadily and now account for 70% of total revenue," noted HL. "Recent progress on cost control has been encouraging as well. Investors will have to look beyond disappointing near term sales numbers to get a grip of what lies ahead for Astra."
Deutsche agreed that pressure on product sales will begin to ease in this quarter with a moderating 6% product sales decline, while recent US regulatory approval of Lynparza for maintenance ovarian cancer and inclusion of Tagrisso and Imfinzi in guidelines "should start to benefit sales going forward", though the bank expects the impact in 3Q to be limited to a benefit from stocking orders for the new tablet formulation of Lynparza.
Fashion retailer Burberry will report interim results, with new CEO Marco Gobbetti addressing the market for the first time moving into the role.
"Investors will likely follow with keen interest his vision of Burberry's strategy going forward particularly after the announcement of Christopher Bailey's departure", said analysts at UBS, picking out five areas that could underpin significant long term improvement.
These include a renewed focus on commercial products such as outerwear and leather goods, actions to upgrade US brand perceptions, maintaining digital leadership, the recruitment of new talent to drive change, and cost discipline to remain key.
For first-half results the Swiss bank forecast group adjusted PBT of £175m, with second quarter retail LFL sales up 3%, leading to Q2 retail sales of £455m and H1 retail sales of £933m.
National Grid's first-half earnings are expected to decline as last year's results benefited from the weather and one-off factors.
The sale of the majority stake in National Grid's gas distribution business is should have a broadly neutral impact on the company's earnings going forwards although analysts expect it to have a negative impact in this period, while the shares are down almost 20% since mid May on the market's concerns around political risks and likely cuts to returns for the UK regulated businesses at the next review.
Halfords, the bike and car accessory retailer, is scheduled to report sales for the final six weeks alongside its full first-half numbers, but its newly appointed CEO Graham Stapleton will not address the market until he begins in January.
As such there is unlikely to be any strategic announcements.
"We believe the FY guidance on gross margin may come under pressure if the expected inflation in bike and car part prices has not come through as expected and the cost growth should be under control," said UBS, adding that there may be scope for another special divided as we saw in Q3 last year but this could be held back for Stapleton.
LFL sales growth in the 26 week period in the main retail division is expected to moderate slightly, said Deutsche, to 2.9% from 3.5% at the 20-week stage, though it does not expect to see an implied slowdown otherwise.
After a mixed set of interims Hikma Pharmaceuticals should hopefully show some stability in its quarterly trading statement, said broker Numis.
Branded was surprisingly weak in the first half, with generics better but with a worse outlook and injectables resilient.
"We would expect Hikma's Branded business to have picked up in Q3, and with Glycopyrolate resilient post approvals for Somerset and Amneal see increasing scope for this business to outperform," analysts wrote.
"We think Generics also has scope to outperform from a low margin base, but with Mylan and Teva still struggling, believe the focus will remain on an update on Hikma's generic Advair application that was expected by the end of the year."
An update is also due from satellite group Inmarsat, where the market is likely to focus on maritime revenues and any changes to guidance for this year and next.
Numis said it believed "too much attention" three months ago focussed on whether maritime revenue will grow more in the third or fourth quarters, with company-compiled consensus expecting declines of 1.4% and growth of 1.4% respectively versus falls of 4.9% and 2.1% last year -- "and not enough on whether it will grow as fast as consensus expects".
Thursday November 09
INTERNATIONAL ECONOMIC ANNOUNCEMENTS
Balance of Trade (GER) (07:00)
Continuing Claims (US) (12:30)
Import and Export Price Indexes (US) (07:00)
Initial Jobless Claims (US) (12:30)
Wholesales Inventories (US) (15:00)
UK ECONOMIC ANNOUNCEMENTS
Balance of Trade (09:30)
FINALS
Gattaca
INTERIMS
Burberry Group, Dairy Crest Group, Halfords Group, National Grid, Prime People, Renewi , Sainsbury (J), Wincanton
TRADING ANNOUNCEMENTS
Aldermore Group, Arrow Global Group, AstraZeneca, Beazley, Coca-Cola HBC, Derwent London, IMI, Informa, Inmarsat, Jersey Oil And Gas
SPECIAL EX-DIVIDEND DATE
Card Factory, Manchester & London Investment Trust
AGMS
Eagle Eye Solutions Group, Primorus Investments, Redrow, Swallowfield, Urals Energy Public Co Ltd. (DI)
FINAL EX-DIVIDEND DATE
Clinigen Group, Craneware, Foresight Solar & Infrastructure VCT, Foresight Solar & Infrastructure VCT 'C', Genesis Emerging Markets Fund Ltd Ptg NPV, Go-Ahead Group, JPMorgan Smaller Companies Inv Trust, Manchester & London Investment Trust, OPG Power Ventures, Revolution Bars Group
INTERIM DIVIDEND PAYMENT DATE
Cenkos Securities, International Public Partnerships Ltd., Ladbrokes Coral Group, Scisys
INTERIM EX-DIVIDEND DATE
BlackRock Smaller Companies Trust, British American Inv Trust, Card Factory, Hargreave Hale AIM VCT 2, Panther Securities, RTC Group, Strix Group , System1 Group, Triple Point VCT 2011, Whitbread
QUARTERLY EX-DIVIDEND DATE
BP, Civitas Social Housing , F&C Commercial Property Trust Ltd., Fair Oaks Income Limited 2014 Shs NPV, GlaxoSmithKline, IBM Corp.