Commodities: Gold recovers from 3 day drop as greenback weakens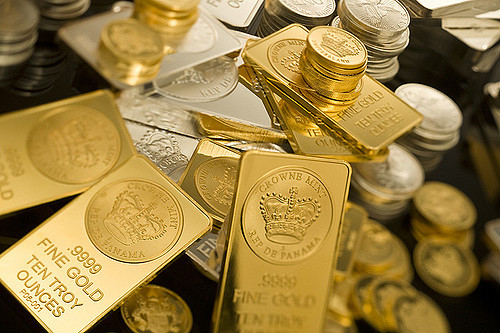 Thursday saw the US dollar fall for the second day in a week, with the dollar index down 0.24% to 93.140 after 10-year Treasury yields dipped 2 basis points as investors returned to the safety of bonds.
This helped gold recover from a three day slump with the spot contract up 0.53% to $1,287/oz and the December contract 0.5% firmer to $1,285/oz.
"There's technical reasons why we've stabilised, stocks have come off, (but overall) people are not finding much value investing in gold at the moment," said Fawad Razaqzada, an analyst at FOREX.com.
"The lack of safe-haven demand combined with expectations of higher interest rates is weighing. If gold remains below $1,300, there's a risk of a deeper correction in the coming days or weeks."
Other presious metals saw silver rise 1.38% to $17.24/oz. by 1720 BST, platinum also rallied, up 0.47% to $925/oz. while palladium traded flat at $961/oz..
Palladium rallied to a 16-year high this week and may spike further on rising auto sales in China and as consumers replace vehicles damaged by hurricanes in the US.
Base metals saw copper fall 0.3% to $6,987/tonne as market participants weighed up the latest data out of China showing an increase in industrial production to 6.6% year on year.
Energy markets saw oil prices drop on Thursday with West Texas Intermediate (WTI) for January delivery fall 1.27% to $51.82/barrel and benchmark brent crude drop 1.41% to $57.02/barrel.
"There seems to be a macro selloff across the board with energy stocks also coming down," said John Kilduff, partner at Again Capital LLC.
Ongoing tension in the Middle East has kept a bid under the market, however, as reduced flows from the Iraqi Kurdish pipeline through Turkey have raised worries about supply.
In the grains market, soybeans futures for November were 0.45% firmer to $9.88/bushel, staying inside the previous day's trading range. Mostly dry conditions in the U.S. Midwest this week should promote harvest progress, although weekend rains may slow fieldwork. Beneficial rains expected next week in dry areas of Brazil's soy belt.
December Corn was modestly higher by 0.23% to $3.5/bushel, with rallies capped by the ongoing harvest of a large U.S. crop amid mostly dry weather in the Midwest this week.