Commodities: Gold range bound as greenback gains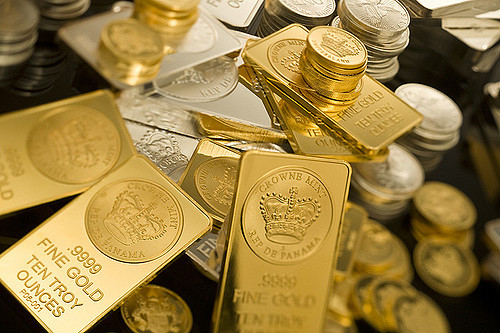 Gold has been stuck in a $1,265/84/oz. trading range since 22 October, as the market looks for key drivers to break in either direction.
The precious metal traded 0.46% lower to $1,275/oz. with the December contract down 0.47% down to $1,275/oz., while the dollar index firmed up 0.18% to 94.929 on Tuesday.
"It is only going with oil and the U.S. dollar," said MKS's head of trading Afshin Nabavi, adding, "Gold is not providing any reason to be bought."
Other precious metals saw silver trade 1.7% to $16.96/oz., platinum was 1.25% softer at $924/oz., while palladium lost 0.38% to $999/oz..
"Not only was silver pulled up by gold yesterday – its gains were also twice as pronounced," Commerzbank said in a note. "Silver... is only just below the 200-day moving average. Any rise above this mark could spark technical follow-up buying and lend further buoyancy to the silver price."
Copper retreated 2.62% to $6,837/tonne as investors booked profits on the back of a stronger dollar but remained buoyant on strong global growth and supply worries from a crackdown on polluting smelters in China.
"The market has outdone itself to an extent so we are seeing a price correction and profit-taking," said ING analyst Warren Patterson.
Oil eased on Tuesday after rising to the highest since July 2015 the previous day, while tension flared between Saudi Arabia and Iran and the Saudi crown prince tightened his grip on power.
West Texas Intermediate for January delivery was relatively unchainged on the day, trading 0.09% lower to $57.23/barrel, while January benchmark brent crude was 0.72% softer to $63.85/barrel.
"Saudi Arabia is really going all-in again against Iran and that is, for me, more the focus than the domestic issue," Petromatrix strategist Olivier Jakob said.
"On the one hand, it increases the global geopolitical risk level, but it also increases the difficulty of keeping consensus within OPEC."
In a note to clients, Capital Economics said, "The arrests of prominent officials and businessmen in Saudi Arabia over the weekend also appears to have unsettled the oil market."
"The upshot is that as concerns about geopolitical tensions fade oil prices are likely to give back most oftheir recent gains."
Over in the grains market, soybean futures for March delivery were 0.26% firmer to $10.08/bushel, while December corn took a 0.17% hit to trade at $3.47/bushel.