Peel Hunt upgrades Domino's Pizza after recent weakness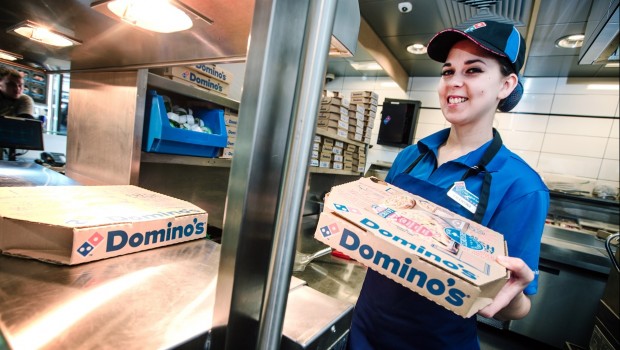 Peel Hunt upgraded Domino's Pizza to 'buy' from 'hold' following recent weakness.
"Domino's has generated a 23% profit before tax compound annual growth rate and a 25% earnings CAGR over the last 14 years. We believe the company's long-term investment case is intact, and offers increasing competitive advantages as well as the potential for forecast upgrades over the medium term."
The brokerage noted that like-for-like sales slowed to 1.5% in January-February 2017 versus a 14-year historic average of 8.8%, causing the shares to de-rate to around 21x P/E, 2011-13's level.
"We view this is as being unfair. Since 2013, franchisee profits per store have risen by 60%; the UK expansion rate has increased by 62%; and the overseas operations have moved from a £7.6m loss to a forecast profit in 2017E."
Peel Hunt said that management stated at its conference that it expects LFL sales to recover to 5-6% and the brokerage agrees. It said sales should pick up as a result of Domino's stepping up its promotional/advertising activity and improving the functionality of its app, which has been downloaded around 15m times, before considering the benefit of easy comps in the second half of the year.
The brokerage said its pre-tax profit forecasts are slightly above consensus simply as its numbers factor in the company's investment and expansion plans for The Nordics. However, it reckons there is at least a further 3% EPS forecast upside in 2017E from UK margin growth, and 1% EPS forecast upside in 2017E from possible additional share buy backs.
Peel has a 400p price target on Domino's.