Next second quarter sales impress most analysts - but not Citi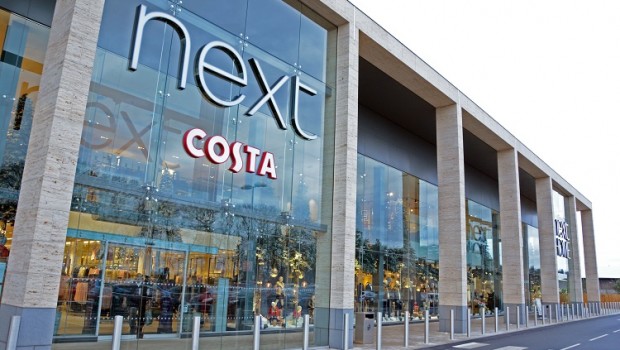 Next shares rallied strongly on Thursday as second-quarter sales proved better than expected, filling analysts with more confidence about the clothing retailer's outlook.
While retail sales were down 7.4%, Next brand sales were up 0.7% compared to wider forecasts for a fall of around 3% as seen in the first quarter and Directory sales were much stronger than expected.
Sales guidance was tightened up very modestly and profit guidance remained unchanged as an improvement in full price sales was offset by lower clearance rates in the end-of-season sale which Next also expects to be the case in the upcoming January sale.
The FTSE 100 group confirmed another 45p quarterly dividend and indicated it will be left with surplus cash of £50m.
RBC CAPITAL & CITI
Short term, analysts at RBC Capital Markets felt the bias is to the upside and noted that Next has also opened up the possibility of recommencing share buybacks.
RBC estimated retail like-for-like sales have remained soft, down 9.7% in the second quarter versus an 11% fall the first, due to a soft womenswear and homewares performance.
"We think Next has struggled with the styling of its offer this season and has become relatively uncompetitive on price. However we believe Next has prepared better for a tough season this year whereas last year's tough Spring/Summer was more of a surprise, so margins should be more resilient."
RBC has a 'sector perform' rating on the shares and 4000p price target, noting that they offer an "attractive" all-in yield of 9% this year but felt the valuation was at a small premium to the sector as EPS declines this year.
"However Next still faces UK consumer headwinds and we think some of its issues are structural as well as cyclical e.g.too high prices and a lack of a free standard delivery offer online."
For Citi, the combination of "negative retail LFL and continued underperformance of Directory is likely to drive profit declines" over the 2018-19 period and although the total dividend yield is now close to 8% "we argue that there
is little scope for re-rating and that shares are unlikely to perform from here".
Citi kept its 'neutral' rating and target price of 4180p, which is based on an 11.2 times p/e multiple for 2018 EPS.
SHORE CAPITAL & INVESTEC
George Mensah at broker Shore Capital said it was a "notably improved period of trading" with full prices sales up 0.7%, though retail sales were still "highly underwhelming" at -7.4% versus its own prediction for -4.4%.
"Commentary within today's statement corresponds somewhat with the thoughts we had recently outlined concerning what may drive performance in Q2," said the analyst, "notably improved online functionality (slicker and more engaging customer interface and usability underpinned by a more robust delivery proposition) and warmer weather driving an uptick in full price sell through."
Mensah, who sees Next trading on a 2018F and 2019F p/e ratio of 10.3 times, recently adopted a more optimistic view of the company's shares, upgrading to a 'hold' recommendation.
"We take comfort in improved trading outturn with respect to our recommendation change and believe the shares may experience a short-term rally on the back of today's newsflow."
This better than expected quarter should, said Alistair Davies at Investec, help reassure concerns over whether profits can stabilise and the security of its strong surplus cash generation.
"Although trading conditions remain tough and bears will point to ongoing weak trading within retail – we think this misses the point that Next is a well-invested business that in our view has the operational flexibility to deal with structural challenges posed by the sector's shift online."
He said the likely return of a further £50m surplus cash would represent circa 0.8% incremental yield but could be via special dividend or buyback.
"As yet, this is undetermined and dependant on management's view of the long-term outlook (we still assume a special), with any optimism likely to mean reversion to a buyback, and, in turn, have positive implications for EPS in outer years."
Davies has a 'buy' rating on the shares, seeing the price as 10.1 times 2018 earnings, which reflects caution on whether profits can stabilise, which he think is feasible, and strong cash generation.
in our view, it is a well-invested business that is capable of dealing with structural challenges posed by online. Buy reiterated.
ETX CAPITAL, ACCENDO MARKETS & III
On the face of it, not a lot was different, said Neil Wilson at ETX Capital, "sales are still wobbly but the company is still strongly cash generative and can keep up the dividends as promised", noting that the leap in surplus cash has investors eyeing up more dividends.
"Profit guidance is unchanged and it can cover the planned dividends with £50m to spare, which can either be used for more dividends or share buybacks. Either way, the market likes the results and the shares are flying. Fundamentally the business remains strongly cash generative even if it's not expanding rapidly and is able to maintain solid returns to investors."
Mike van Dulken at Accendo Markets suggested several reasons why the share price had surged, topped by the fact that sales growth "is an endangered species on the high street" amid fierce online competition and that the increased guidance on surplus cash generation "means potential for greater dividend income" from Next's existing 4% yield.
Van Dulken also noted that the shares were already on the rise, up 12% from last month's revisit of Brexit lows helped by strong sector sales data: "With 5.14% shares disclosed as major short positions, some of the more recent ones may have been spooked by this morning's revisit of May highs, electing to reduce/close their positions for fear of a share price breakout gaining traction to worsen their losses.
With his technical analysis cap on, he pointed out that the shares were back above their 200-day moving average, a level not even flirted with since December 2015 when the shares' kicked off their 54% sell-off to Brexit vote lows. "Should this level now serve as support, it could provide the platform for a more significant recovery."
"Whilst sunny skies helped in June/July, one can look at the Q3 UK weather forecast either way. More good weather could see the company sell even more summer wear. A poor August, however, could just as easily see demand for more Autumnal items begin earlier than usual."
Even after Thursday's rally extended three-week gains to as much as 25% and other analysts' unimpressed view of the valuation, Lee Wild at Interactive Investor felt Next shares are "hardly expensive".
"Barely into double-digit valuation multiples, they trade at a big discount to both the sector and its own 10-year average. There's also an attractive dividend yield, including at least two further promised special payouts from surplus cash."