M&S leaves analysts dividend into patient and impatient camps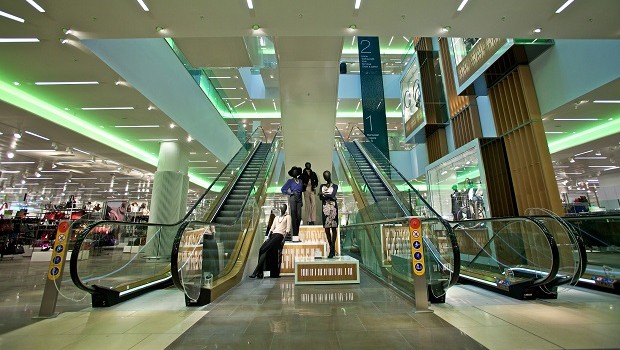 Half-time results from Marks & Spencer divided analysts, with some lamenting the glacial progress in the retailer's turnaround but others seeing the dividend as safe and a just reward for investor patience.
For the six months to 30 September, the retailer reported sales down 3.1%, as food like-for-like sales fell 2.9% amid tough competition in the supermarket sector, while clothing and home sales shrank 1.1%. Underlying profits of £223.5m were up 2% and beat City expectations, but this was due to phasing of cost cuts, and full year cost guidance was unchanged.
Analysts at RBC Capital Markets saw some positives, noting that with 29 out of 100 full-service stores closed in the first half, M&S expects to be 35-40% through the store closure programme by the end of the year and is seeing better than expected sales transfers to existing stores of around 30%. The new regional distribution centre at Welham Green will open in the spring and the company will have a third more capacity at its ecommerce centre at Castle Donnington over the peak season. "There may be more store closures in time given the ongoing channel shift in the sector."
"With a free cashflow yield of almost 10% and a dividend yield of c.6%, investors are being paid to wait for operational improvements to come through," RBC said, suggesting that the dividend is "well protected" and that there remains "a substantial cost reduction opportunity".
Morgan Stanley agreed, saying such small downgrades "pose minimal risk to the dividend", which remains well supported by cash flows that hit £241m in the half-year and with M&S due to pay down more debt this year.
"Overall we think this statement paints a picture of a group undergoing radical, and very rapid, change but where this change is yet to feed through into improved trading performance. However, with the shares yielding a (very secure) 6.3%, we think shareholders are being well remunerated for their patience."
While beating the City consensus thanks to better than expected food margins as it gives up profit dilutive promotions, JPMorgan Cazenove thought the results were broadly mixed.
Not only did food LFLs fall short but Cazenove noted that "management's tone on the speed of improvement in this business, and scale of changes necessary to drive such improvement is not encouraging", pointing to comments that longer term progress will require "more far reaching restructuring of the supply chain".
With management also expecting "little improvement in sales trajectory" over the remainder of the year and with opex guidance for the full year unchanged and the first-half profit beat driven largely by phasing, Caz's first take was that full year PBT forecasts "could nudge slightly lower" and that "there is little here to change our structurally negative view and hence we would be selling into any strength".
Likewise, broker Liberum kept its 'sell' rating on the shares and said: "While there is limited progress on transformation, to execute major change when both sides of the business are going backwards exacerbates risk, disruption and heightens the impacts to both the P&L and cash flows. It is also difficult to adequately invest behind, and prepare for peak trading when both businesses are deteriorating at an increasingly worse rate. The market is likely underestimating the impact on the cash and balance sheet costs associated with the ongoing reviews."
Although the shares are currently trading below their long-term average 12m forward price/earnings ratio, Liberum believe "the downgrade cycle may not yet be over and do not see any catalysts that may change our cautious stance at this stage".
Russ Mould, investment director at AJ Bell, was similarly downbeat, seeing "no end in sight" for "the world's most frustrating recovery story", though he said removing the confusing promotions in food "looks to be the correct decision, up to a point".
He added: "Marks & Spencer needs to live up to its reputation of quality products while also being more competitive on pricing. However, one has to wonder if there is a risk in the business swinging the needle too far towards budget territory.
"For example, you can now get a packet of chocolate biscuits in Marks & Spencer for a mere 75p which puts it in competition with mainstream supermarkets. Surely that threatens the appeal of its higher priced, premium products as customers may just plump for the cheapest option – in essence Marks & Spencer's value range could cannibalise sales of its other ranges. Value doesn't always have to mean low prices. A Marks & Spencer customer needs to feel they are getting great value for the price they are paying, and that still applies if they are paying slightly more than they would in Tesco for a product that is also better quality.
"As for clothing, the decision to reduce the number of options looks wise as long as it doesn't forget its unique selling point, namely stocking a wide range of different sizes per line."
On that note, Macquarie's view was that not only is M&S still "structurally challenged" but the clothing lines score poorly in the bank's "strategic fashion framework".
"Management is tackling key issues and has initiated good cost savings. However, in our view more aggressive investments will come, while there is no guarantee of success in a market which is changing fast, potentially faster than it takes to transform M&S. At the same time, competition is intensifying," Macquarie said, keeping its 'underperform' rating.
At house broker Shore Capital, after chairman Archie Norman's assessment of a "burning platform" back in July, analyst Clive Black is led to hope that the significant bout of management hiring over the last 12 months represents "the arrival of the fire brigade".
He said the first half was characterised by "pace" but poor food LFL sales and so trimmed his full year PBT forecast roughly 3% to £528m.
Black continued to forecast a flat dividend payout, but aware of wider concerns about the weight "awaiting as we do the board's assessment of medium-term prospects, priorities and requirements from the group's capital allocation strategy".
"M&S has clearly seen better days and restoring it to a more positive investment thesis remains a challenging and time-consuming process."