Broker tips: Marks and Spencer, British Land, Hammerson, NewRiver REIT, Land Securities, NWF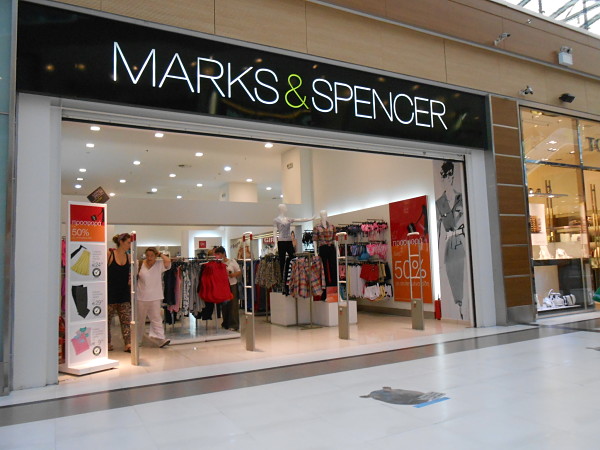 Half-time results from Marks & Spencer divided analysts, with some lamenting the glacial progress in the retailer's turnaround but others seeing the dividend as safe and a just reward for investor patience.
For the six months to 30 September, the retailer reported sales down 3.1%, as food like-for-like sales fell 2.9% amid tough competition in the supermarket sector, while clothing and home sales shrank 1.1%. Underlying profits of £223.5m were up 2% and beat City expectations, but this was due to phasing of cost cuts, and full year cost guidance was unchanged.
Analysts at RBC Capital Markets saw some positives, noting that with 29 out of 100 full-service stores closed in the first half, M&S expects to be 35-40% through the store closure programme by the end of the year and is seeing better than expected sales transfers to existing stores of around 30%. The new regional distribution centre at Welham Green will open in the spring and the company will have a third more capacity at its e-commerce centre at Castle Donnington over the peak season. "There may be more store closures in time given the ongoing channel shift in the sector."
Morgan Stanley agreed, saying such small downgrades "pose minimal risk to the dividend", which remains well supported by cash flows that hit £241m in the half-year and with M&S due to pay down more debt this year.
"Overall we think this statement paints a picture of a group undergoing radical, and very rapid, change but where this change is yet to feed through into improved trading performance. However, with the shares yielding a (very secure) 6.3%, we think shareholders are being well remunerated for their patience."
While beating the City consensus thanks to better than expected food margins as it gives up profit dilutive promotions, JPMorgan Cazenove thought the results were broadly mixed, while Macquarie's view was that not only is M&S still "structurally challenged" but the clothing lines score poorly in the bank's "strategic fashion framework".
"Management is tackling key issues and has initiated good cost savings. However, in our view more aggressive investments will come, while there is no guarantee of success in a market which is changing fast, potentially faster than it takes to transform M&S. At the same time, competition is intensifying," Macquarie said, keeping its 'underperform' rating.
House broker Shore Capital, after chairman Archie Norman's assessment of a "burning platform" back in July, analyst Clive Black is led to hope that the significant bout of management hiring over the last 12 months represents "the arrival of the fire brigade".
Barclays cut its stance on three UK retail property stocks on Wednesday as it took a more pessimistic view on the sector ahead of upcoming half-year results.
The bank said transaction markets have dried up, tenant failures have increased and valuation declines are evident.
"We believe the various structural issues - online sales, tenant failures, shortening average lease lengths - support our thesis for a prolonged period of reducing rents, yield expansion and retail asset valuation declines.
"Not all retail is equal and the impact will be more acutely felt in low-yield, high-rent assets. We believe the extent of these declines is underappreciated in the market, as consensus still expects flat or increasing NAV for the companies discussed in this report."
Barclays downgraded British Land to 'equalweight' from 'overweight and cut the price target to 580p from 730p. The bank said it likes the company's proactive approach to London offices and future income from the office development pipeline. However, declines in the retail assets (as rents decline and yields expand), will weigh on overall group returns.
"We believe risks are asymmetrically skewed to the downside," it said.
It downgraded Hammerson to 'underweight' from 'equalweight' and cut the price target to 410p from 500p. It argued that following the strategic review, investors are left with the question as to whether the announced changes will be sufficient.
"Given our view of valuation declines, more assets may need to be sold to keep leverage under control. We believe NAV declines will be greater than currently assumed by the market and the group will deliver lower total returns than peers."
Barclays also moved NewRiver REIT to 'equalweight' from 'overweight' and slashed the price target to 260p from 350p.
The bank said that on the one hand, NewRiver provides investors with a higher dividend yield than peers. However, it is not immune from valuation declines and as a result the low total returns will weigh on performance and the shares are unlikely to outperform peers.
Land Securities was kept at 'underweight', with its price target chopped to 790p from 910p. "The company remains on the sidelines ready to react to a decline in London office values, but this may not be forthcoming," it said.
Lastly, Peel Hunt upped its stance on NWF Group - a specialist agricultural and distribution business delivering feed, food and fuel across the UK - to 'buy' from 'hold', retaining its 195p price target as the shares have recently slipped back to an "attractive" entry level, supported by a 3.9% yield.
The brokerage said NWF had a stellar 2018, with impressive returns in Fuels, and an average return on net assets of 53% over the past five years. It said that while there will always be some variability due to the weather, the company has demonstrated that it can successfully run depots through the cycle.
"A different approach may be required as the business expands, but the opportunity for acquisitions looks substantial," Peel Hunt said.
"Currently, the top ten players control 23% of the market, with the remaining 77% split between 150 companies. This gives NWF plenty of targets to build a pipeline of acquisitions. We would expect 1-2 per annum to start with, which could accelerate as the company delivers."
It also noted that NWF has invested in its Feeds business, with a £3m spend on its new mill in Longtown.
"The benefits are now embedded in the business and we see NWF as having an asset base that is fit for purpose. In order to proceed from here, the company will need to increase volume throughput, either organically or through acquisition. We also expect the company to look to add specialist feed businesses to broaden the product mix."
As for the Food business, Peel said it is looking more stable after a period of flux as a major customer moved on, meaning NWF had to attract new customers.