Brexit talks start as uncivil war breaks out among UK ministers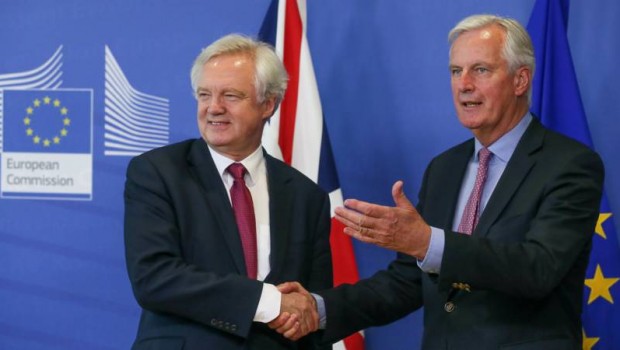 Brexit negotiations resumed in Brussels on Monday against a backdrop of political infighting among British ministers over the terms of Britain's departure from the European Union.
As Brexit Secretary David Davis sat down for talks with the EU's chief negotiator Michel Barnier a war of words had broken out between Britain's Finance Minister Philip Hammond and ideologues in the government who want a "hard" exit from the bloc.
Barnier said on Monday that the talks, which run to Thursday, would "delve into the heart of the matter".
"We need to examine and compare our respective positions in order to make good progress," he said.
Monday's discussions will focus on citizen's rights and the bill the UK will pay to exit. Last week the government admitted there would have to be a financial settlement, despite Foreign Secretary Boris Johnson claiming the EU could "go whistle" for the money.
The depth of division among Prime Minister Theresa May's ministers was highlighted over the weekend as Hammond was accused of using the Treasury to "frustrate" the Brexit process.
Hammond is in favour of a long transitional departure to avoid damaging the economy. Over the weekend he was subjected to briefings against him over a range of remarks he had allegedly made at a Cabinet meeting last week.
These ranged from claiming that public sector workers were "overpaid" to saying that driving a train was so easy "even a woman" could do it.
He defended his position on Sunday and hit back at his critics.
"I do think on many fronts it would be helpful if my colleagues - all of us - focused on the job at hand," he told the BBC.
"If you want my opinion, some of the noise is generated by people who are not happy with the agenda that I have, over the last few weeks, tried to advance, of ensuring that we achieve a Brexit which is focused on protecting our economy, protecting our jobs and making sure that we can have continued rising living standards in the future."
May's spokesman told reporters on Monday that she would be "reminding her colleagues of that at the cabinet meeting tomorrow...of their responsibilities and making the point that ministers across government need to be focused on getting on with delivering what the British public wants".