Video: Keywords Studios capital markets event November 2017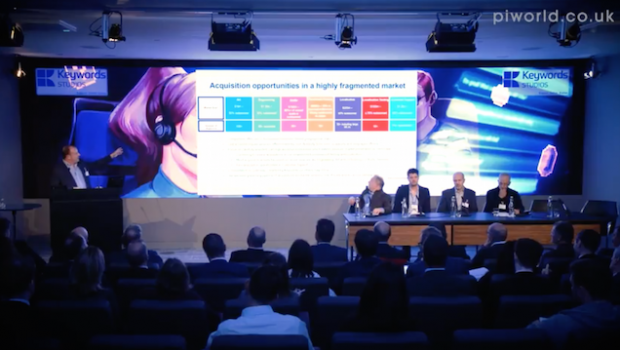 Keywords Studios, the supplier of technical services to the video games industry, held a capital markets event this week to brief the increasing number of analysts and investors that are attracted to its niche fast-growth story.
Group chief executive Andrew Day introduced the entire senior leadership team to the assembled ranks at the London Stock Exchange as he kicked off proceedings, with the whole events recorded for video by PIworld.
Using a series of case studies with input from each of the management team, Day said: "We're going to tell a story about how we're building Keywords and how we're creating value both organically and through acquisitions, drawing on the experitse and talent that we add to group, and how we use that increased scale, increased capability and increased financial and public profile to build a more reliable and scale-able platform."


Video chapters:
Andrew Day, Group CEO: Introduction - 01:05
IPO to 'Go to global services platform' – 04:48
Acquisition strategy & track record - 07:23
Andrea Ballista, Head of Audio Services: Acquisition opportunities – 13:28
Andrew Tosh, President of GameSim: Acquisition by KWS - 17:20
Fabio Minazzi, Head of Localisation Services: Acquisition by KWS– 20:20
Fred Stockton, Head of Art Creation: Acquisition by KWS – 23:03
Returns from acquisitions – 27:35
Q&A – 29:05
Nicolas Liorzou, Regional MD – Americas: Integration & driving synergies – 33:25
Fulvio Sioli, Regional MD – Europe: First days joining the Keywords family - 38:45
Max Reynaud, CEO of Synthesis: First days joining the Keywords family – 41:37
Bringing people together – 44:07
Gerry Cleary, HR Director: Bringing people together – 45:18
Giacomo Duranti, Group COO: Managing efficiency – 46:47
Chris Kennedy, Regional MD: Asia: Leveraging the acquisitions - 50:33
Thommy Barth, Head of Functional Testing: KWS 'Lifer' – 55:45
Andrew Day, Group CEO: Summary on integration – 59:47
Mike Wallen, 6roup Sales Director: Cross selling opportunities – 01:00:44
David Broderick, Group CFO: Management structure & cross selling – 01:04:23
Fabio Minazzi, Head of Localisation Services: Cross selling case study 1 - 01:08:28
Mike Wallen, 6roup Sales Director: Cross selling case study 2 & 3 - 01:12:30
Andrew Day, Group CEO: Summary on cross selling - 01:17:34
Q&A – 01:18:50
Jaime Gine, Group CCO: Strategic partnerships - 1:28:00
Fred Stockton, Head of Art Creation: Strategy partnerships in art – 1:38:15
Manvendra Shukul, CEO of Lakshya Digital: Strategic partnerships in art - 1:43:58
Jaime Gine, Group CCO: Strategic partnerships – 01:15:17
Andrew Day, Group CEO: Summary - 01:55:13
Q&A – 01:56:02