SolGold reports 20% strike extension from Hole 21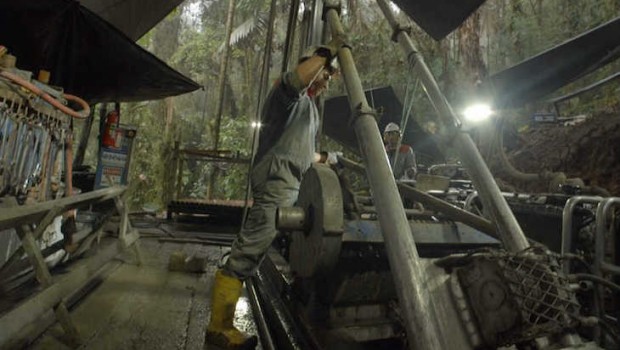 SolGold reported drilling at its Cascabel site in Ecuador had extended the known length of copper-gold mineralised by 20%.
Hole 21 at the Alpala section of its 85%-owned Cascabel project extended the known strike length of the deposit by some 150m to 900m, with assay results from the lower portion of the hole between 650m and the end of the hole at 1619.2m
Using a 0.7% copper equivalent cut-off, Hole 21 showed three mineralised zones: 304m averaging 0.99% copper and 0.63g per tonne of gold between 962m and 1266m; 98m averaging 0.57% copper and 0.46g/t gold between 1278m and 1376m; and 100m averaging 0.69% copper and 0.46g/t gold between 1396m and 1496m.
AIM-listed SoldGold, which owns 85% of the company that owns Cascabel outright, has drill tested four of fifteen targets defined so far.
Three more, Holes 23R, 24 and 25, are in progress at current depths of 844m, 1171m, and 1204m.
Having mapped and sampled 25 sq km of the Andean copper belt project so far and drilled 35,000m, at an exploration cost to date of $43m, new investments by Newcrest, Guyana Goldfields and Maxit Capital are allowing an accelerated rate of exploration.
As it works towards the all-important pre-feasibility study, SolGold has set out plans to expand the drilling program to seven drilling rigs by October, eight by the year end and 10 next year.

"An aggressive drill program, producing approximately 90,000m of diamond drill core per annum from early 2018 is planned to delineate the system limits along the greater Alpala trend prior to a maiden resource statement, and to test the other multiple targets within the concession," the company said, that it was "excited" by the strong correlation between magnetic signatures and copper mineralisation across several magnetic bodies of the project.
House broker and Nomad SP Angel said Solgold was accelerating its exploration as it considers appropriate mining development options.
"In addition, it is building upon its in-country expertise to acquire additional exploration licences though, prudently in our view, exploring third party funding options in order to focus its efforts on the advancement of Cascabel."